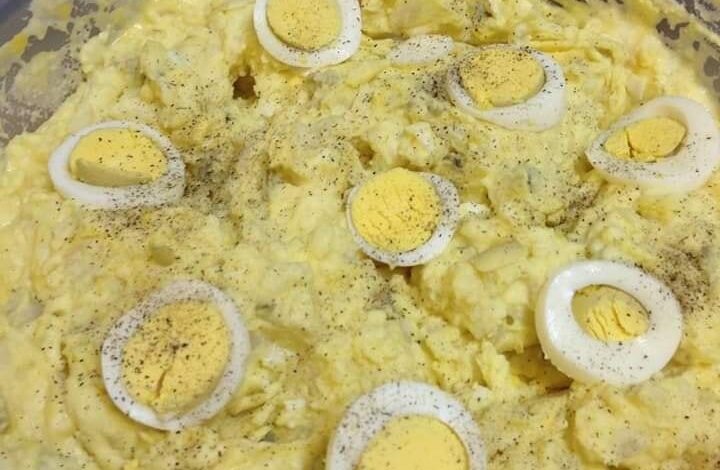 Southern Potato Salad is a beloved classic in the American South. It's a dish that's made with love and tradition, often enjoyed at family gatherings, picnics, and BBQs. In this article, we'll guide you through the process of making this delectable Southern Potato Salad, providing you with detailed instructions, expert tips, and answers to common questions.
Southern Potato Salad Ingredients:
Before we dive into the recipe, let's take a look at the key ingredients you'll need:
| Ingredients | Quantity |
| --- | --- |
| Russet potatoes | 3 pounds (medium) |
| Mayonnaise | 1 cup |
| Yellow mustard | 1/4 cup |
| Apple cider vinegar | 2 teaspoons |
| Sugar | 2 teaspoons |
| Onion powder | 1/2 teaspoon |
| Sweet pickle relish | 1/4 cup |
| Celery | 1 stalk, chopped |
| Sweet onion | 1/2, chopped |
| Hard boiled eggs | 4 (3 chopped, 1 sliced) |
| Paprika | |
Instructions:
Let's get started with the step-by-step directions to make this mouthwatering Southern Potato Salad:
Begin by cutting each potato in half and placing them in a large pot. Cover the potatoes with about 1 inch of water.
Add 2 teaspoons of salt to the pot and bring the water to a simmer. Let the potatoes simmer for approximately 20 minutes or until they are fork-tender. Be sure to drain them well.
Once the potatoes have cooled, peel and discard the skins.
In a large bowl, place the potatoes and cut them into bite-sized pieces using a knife.
In a small bowl, mix together the mayonnaise, yellow mustard, apple cider vinegar, sugar, and onion powder. Pour this creamy mixture over the potatoes and mix it in thoroughly.
Add the sweet pickle relish, chopped celery, chopped sweet onion, and the chopped hard-boiled eggs to the bowl. Mix everything together until well combined. Season with salt and pepper to taste.
To finish, top the salad with sliced egg and a sprinkle of paprika. Cover the bowl with plastic wrap and refrigerate for at least 4 hours to allow the flavors to meld together.