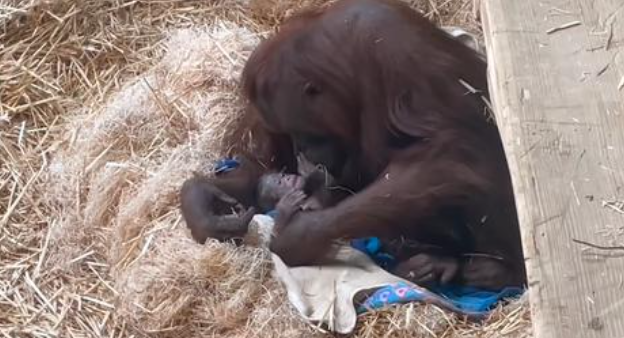 t's always an exciting day at a zoo when a baby animal is born, but it's even more special when the newborn is part of an endangered species. Each new birth is a step towards repopulating an at-risk species.
Now, one zoo is celebrating the birth of a beautiful baby Bornean orangutan, who is bonding with its caring mother.
The Oregon Zoo announced the exciting news, saying that the newborn arrived on April 13 at 11 am, to 20-year-old Bornean orangutan Kitra.
It is Kitra's first baby, and the zoo says she is a natural mother. "She pulled the baby close to her right away, and the baby appears to be strong and healthy," senior keeper Asaba Mukobi said in a news release.
"We're all pretty excited about it," said Kate Gilmore, who oversees the zoo's primate area. "It's great to see Kitra taking such good care of her baby. There's still a lot that could happen, so we're being very cautious and giving her as much quiet time as possible. But so far she seems to be taking to motherhood quite well."
The zoo says they helped Kitra through her pregnancy and performed ultrasounds to keep an eye on the baby's progress. The sex of the newborn won't be known for a few weeks. Kitra and her baby are now in a private area, and zookeepers are monitoring the baby's progress while keeping a hands-off approach to let the mother and child bond.
"We will be watching to assess their progress," Gilmore said. "The first few days are especially critical. Our care staff and veterinary team have been dedicated to giving Kitra everything she needed for a successful birth. Thankfully, she hasn't needed much help from us so far. She's been doing a great job by herself."
The arrival of this newborn is important because orangutans are a critically endangered species. Their dramatically reduced population is mostly due to habitat loss, particularly caused by the palm oil industry. They are also a frequent target of hunters and the pet trade.
The Oregon Zoo participates in the Association of Zoos and Aquariums' Species Survival Plan for orangutans. Kitra and her mate Bob, the baby's father, both arrived from other zoos to be paired as mates.
Orangutans are one of the most intelligent species in the world, and they're also one of our closest relatives in the animal kingdom. The Oregon Zoo says they have one of the closest mother-child bonds of any species, and share nearly 98% DNA with humans.
They're a beautiful species, and one definitely worth fighting to save from extinction. Hopefully this sweet newborn goes a long way in helping to save the species, and helps inspire people to get involved with their conservation.
What a beautiful newborn orangutan — welcome to the world, little one! We know you will go a long way in saving this critically endangered species.
Share this amazing news!