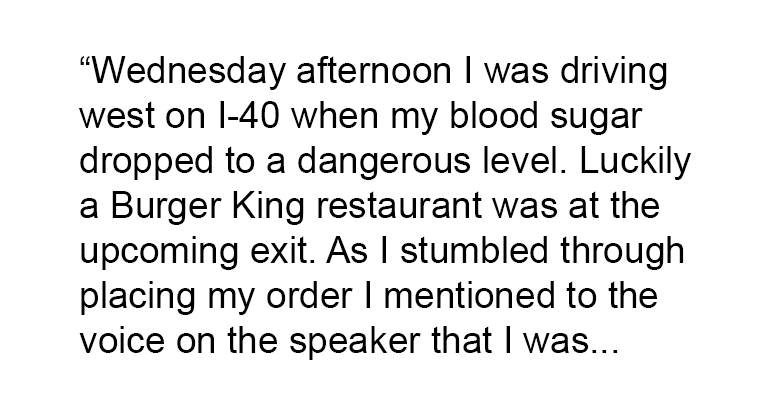 Woman's Facebook post goes viral after Burger King employee does this at the drive-thru
A woman's Facebook post has recently gone viral, describing an unexpected encounter with a Burger King employee.
In her post, Texas-resident Rebecca Boening explained that she pulled up to the drive-thru window to place an order and began stumbling over her words. After mentioning that she was diabetic, the Burger King employee immediately left her post and surprised Boening with her actions. Read her post below.
Rebbeca Boening
Wednesday afternoon I was driving west on I-40 when my blood sugar dropped to a dangerous level. Luckily a Burger King restaurant was at the upcoming exit. As I stumbled through placing my order I mentioned to the voice on the speaker that I was diabetic and in need of food. Low blood sugar makes it difficult to think or act. I pulled up to the first window in order to pay for my food. I was shocked to see Burger King employee Tina Hardy running toward the front of my car.
She squeezed between the front of my car and the building just to bring me a small serving of ice cream. Tina later explained that her husband was also diabetic and she could tell that I needed help. After paying I pulled up to Tina's window where she gave me my food. She instructed me to park across the driveway so that she could keep an eye on me until I felt better. After eating I waited for a break in business so that I could return to Tina's window. I then took this picture and spoke with Tina's supervisor, telling him what she did for me.
If you appreciate what this special woman did please share this story. Hopefully Tina Hardy will receive the recognition that she truly deserves from the public and from the big bosses at Burger King.
In a time when our news highlights all the bad in the world, it's wonderful to see such a kind act between two individuals.
Agree? Pass it on and let us know your thoughts on Facebook.