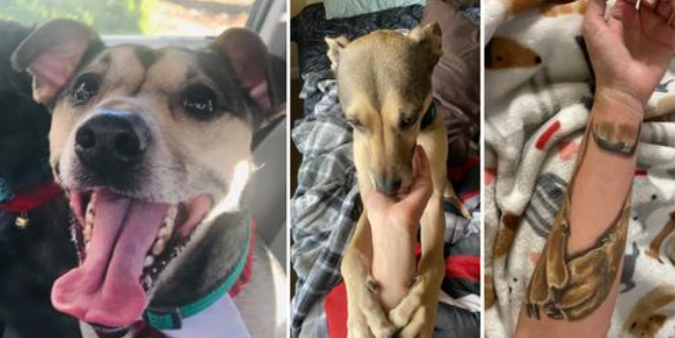 It's always heartbreaking when a beloved pet passes away. But many people find sweet ways of remembering their departed friends, something to serve as a reminder that even though they're gone, they'll always be with us.
Like one woman, whose sweet tattoo in tribute to her late dog is warming hearts across the internet.
Anna Halcin was the loving owner of a dog named Sebastian. The two were inseparable best friends, and the little dog had a cute way of showing his love: he would hug Anna's arms, wrapping around her with his paws.
Sadly, Sebastian passed away in October, leaving Anna devastated.
"He was special to me, and always will be," she told The Dodo. "We were absolutely best friends."
In her grief, she decided to do something special to memorialize her late best friend — and she found an adorable way to do so.
She got a tattoo on her arm — one that depicts Sebastian's paws wrapped around her arm, just like he would always love to do:
With the tattoo, it's like Sebastian will always be there to give her a hug when she needs one. The creative tat has helped Anna through the grieving process, and will help Sebastian stay a part of her life forever.
"I wanted something that was always with me, no matter what, and a tattoo seemed just perfect," Anna said. "Now, every time I look down, it's like he is hugging me. That's helped me cope quite a bit."
The tattoo was inked by Jack & Diane's Tattoo in Gulfport, Mississippi. Anna shared photos of her tattoo online, and it quickly went viral, with over 72,000 shares on Facebook.
Many users praised the creative idea and shared stories about their own departed pets. Anna thanked them all for their support.
"I just wanted to say thank you so much for sharing this y'all," Anna wrote on Facebook. "He meant the world to me since he was my first dog and to see this post get so much recognition means so much He absolutely deserves all the attention he's getting."
A dog's love is forever — they stay with us long after they've crossed the rainbow bridge. With Anna's sweet tattoo, she'll always have a reminder that her beloved dog is still with her.
Please share this sweet story if you love this idea! 🐾