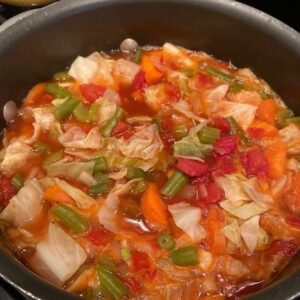 °8 cups vegetable broth
°1 yellow onion chopped
°3 cloves garlic minced
°4 cups cabbage
°3 carrots cut into slices
°3 celery stalks
°½ teaspoon kosher salt
°½ tsp black pepper
°½ tsp dried thyme
°one spoon of dry basil
°28 oz tomatoes
*How to preparing :
Step 1: In a large bowl, add the vegetable broth, onion, garlic, cabbage, carrots, celery, salt, pepper, oregano, basil, and chopped tomatoes together, then stir well.
Step 2: Bring to a boil, then reduce the heat and simmer for 20 minutes or until the cabbage and carrots are tender. Serve and
Enjoy!