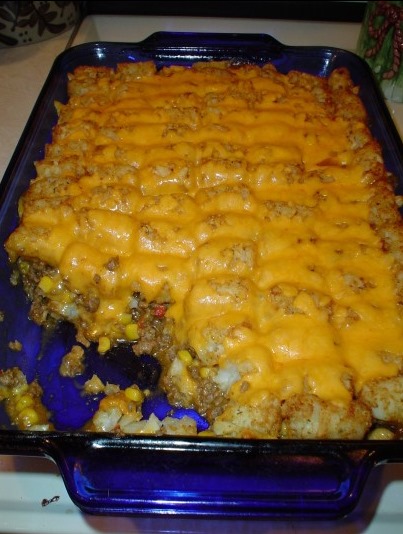 Victory's Taco Tater Tot Casserole
Tater Tot Taco Casserole is going to be your new favorite way to enjoy taco night!
This easy casserole has layers ground beef and veggies topped with Tater Tots & cheese.
Once this Taco Tater Tot Casserole is baked and bubbly we top with with our favorite taco toppings to make this a meal that the entire family loves!
There's a good reason my kids have dubbed this the BEST Tater Tot Casserole!
This was so easy to make (yay for me) and a HUGE hit with the family… even with little Miss I-don't-like-melted-cheese-lasagna-casseroles-or-spaghetti. (Double yay for me)!
In fact, she had two helpings!
This cheesy tater tot casserole is made with veggies (like peppers and corn) with a zesty beefy taco inspired sauce and it is super easy to make!
The whole thing is crowned with Tater Tots and baked until they're golden and crispy on top… adding the sauce and cheese at the very end keeps them from getting soggy as they do with some casseroles!
INGREDIENTS
2 lbs lean ground beef
1 (1 1/4 ounce) package taco seasoning
1 (15 ounce) can corn, drained
1 (10 3/4 ounce) can Fiesta nacho cheese soup
1 (32 ounce) package tater tots
1 (8 ounce) package cheddar cheese
Directions
brown beef drain.
stir in taco seasoning and water and simmer for 5 minutes.
add corn soup put in 9 x 13 pan and top with tater tots.
bake at 350 for 35 minutes.
take out top with cheese put back in oven for 5 minutes or till cheese is melted.
add ketchup or taco sauce when served tastes very good enjoy.
Source : allrecipes.com