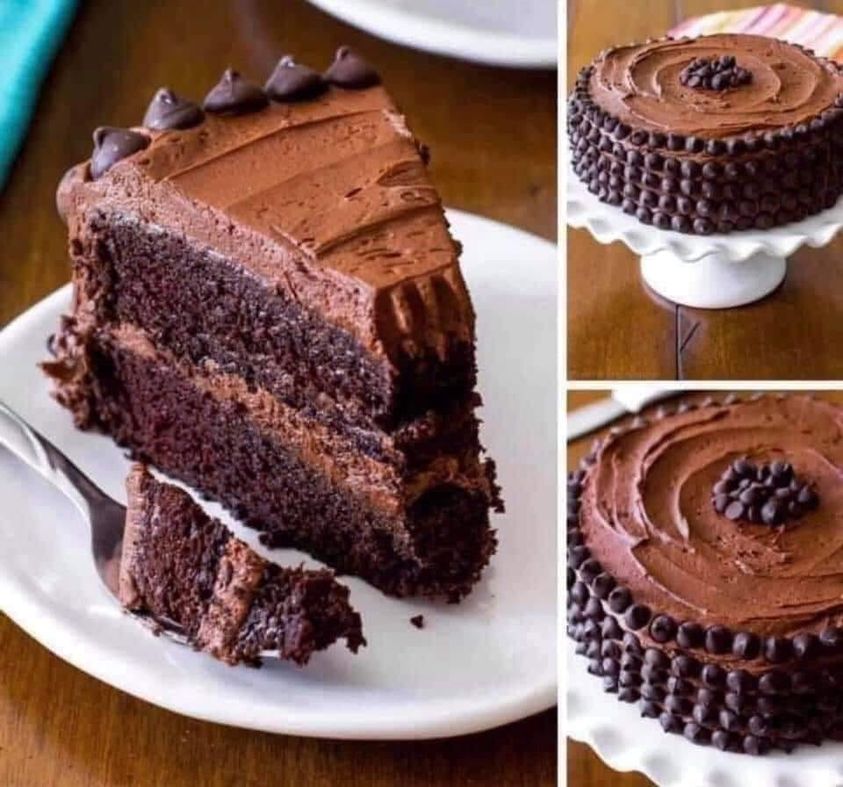 This is my favorite homemade chocolate cake recipe. With a super moist crumb and fudgy, yet light texture, this chocolate cake recipe will soon be your favorite too. Top with chocolate buttercream and chocolate chips for 3x the chocolate flavor. You can also prepare this chocolate layer cake as a sheet cake, too. See recipe note.
Ingredients
For the Chocolate Cake
2 cups sugar
2 cups all purpose flour
3/4 cup cocoa
2 tsp. baking powder
1 tsp baking soda
1/2 tsp salt
2 eggs
1 cup soured milk, add a tablespoon of lemon juice to sour the milk
1 cup black coffee
1/2 cup vegetable oil
1 tsp vanilla extract
For the chocolate buttercream frosting
1 pound chocolate, at least 50% cocoa, chopped in small pieces
½ cup butter
2 cups sugar
2/3 cup water
6 egg whites at room temperature
¼ tsp cream of tartar
2 tsp vanilla extract
Pinch salt
2 cups 1 pound softened unsalted butter
For the Ganache Drizzle (optional)
1/3 cup chocolate chips
1 1/2 tbsp whipping cream
Instructions :
For the chocolate cake
Combine all ingredients in a mixing bowl and beat with electric mixer for 2 minutes.
Pour into 2 greased and floured 8 or 9 inch cake pans. Bake at 350 degrees F for 35-40 minutes or until toothpick inserted in the center comes out clean.
Cool in the pans for 5 minutes, then remove from pans and cool completely on a wire rack.
To make the frosting
Combine the chocolate and 1/2 cup of butter and melt (but do not over heat) in a double boiler. Set aside to cool to room temperature.
Combine the sugar and water in a small saucepan and bring to a boil.
Continue to boil over medium heat without stirring until the mixture reaches 240 degrees on a candy thermometer.
Meanwhile beat together the egg whites, cream of tartar, vanilla extract and salt to stiff peaks.
Slowly pour in the sugar syrup in a thin stream, hitting the side of the bowl and not the beaters. Continue beating the frosting for 10-15 minutes until the meringue is completely cool.
When completely cool, slowly begin to add the butter a few tablespoons at a time. Beat until smooth after each addition.
Add the melted chocolate to the meringue mixture in about 4 additions and beat well after each addition.
Continue beating until frosting reaches a spreadable consistency. This may take 15 minutes or so and you may have to chill the frosting for several minutes before beating it again to get it to stiffen. Alternatively, you can place the frosting bowl in an ice bath while continuing to beat constantly until the icing stiffens sufficiently.
To construct the cake
Split the cake layers in half, horizontally, making 4 layers in total. Fill layers with frosting and spread over the entire cake. Garnish with chocolate ganache or chocolate curls if desired.
Chocolate Ganache
It's best to add the drizzle when the frosting has been chilled on the cake for an hour or so.
In a double boiler, combine and melt the chocolate and cream but be careful not to overheat it.
Spoon the ganache into a Ziploc bag and snip off a corner with sharp scissors. Use the bag to drizzle the chocolate in continuous circular motions all over the surface of the cake.
Enjoy !!!