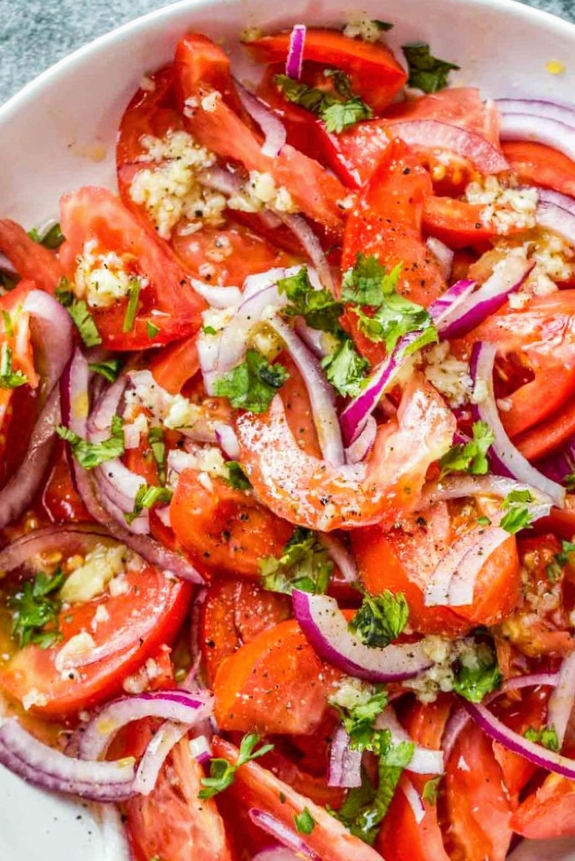 A simple and easy tomato salad recipe that is made with fresh tomatoes, onions, chopped herbs, and a light salad dressing. A delicious salad that is loaded with flavors.
Prep Time: 5 minutes
Total Time: 5 minutes
Servings: 4 servings
INGREDIENTS:
1 lb tomatoes, sliced
1/2 red onion, sliced
3 Tbsp fresh herbs (basil, cilantro or parsley)
dressing
2 Tbsp olive oil
1 tsp white distilled vinegar
1 garlic clove, minced
½ tsp salt
¼ tsp ground black pepper
Method:
HOW TO MAKE A TOMATO SALAD:
The beauty of this recipe is the 5 minute prep time you need, so simple yet so delicious.
Cut tomatoes– You want to either slice, cube, or quarter the tomatoes into even pieces.
Cut onion– Slice onion in thin slices or cubes.
Prep dressing– In a small bowl, whisk together the ingredients for the dressing. Whisk together the minced garlic, olive oil, vinegar, salt, and pepper. You can add salt and pepper to taste.
Serve- Combine the salad, onions, and dressing. That's it. SO QUICK.
Then it's ready to serve
Enjoy!
I would really be excited if you could try this recipe and come back to show us how you did it.
Be sure not to miss