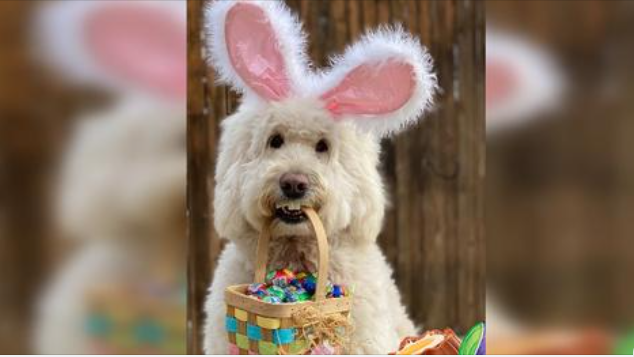 Therapy dog who visited nursing homes wins contest to be this year's 'Cadbury Bunny'
Easter is coming up, and for many people the holiday is synonymous with Cadbury Creme Eggs, the classic chocolate candies that are a staple of Easter baskets everywhere.
The Cadbury Eggs are known as much for their advertisements as much as their taste: in recent years, the company has held tryouts for an animal to become the year's "Cadbury Bunny."
After receiving thousands of entries, Cadbury has announced the winner of this year's contest who will have the honor of being the "Cadbury Bunny": an adorable therapy dog named Annie Rose!
The "Cadbury Bunny" contest, now in its fourth year, is based on the iconic and long-running ad which featured animals auditioning to be the new Cadbury bunny.
The ad aired on TVs for 35 years unchanged, until Hershey, who produces Cadbury Creme Eggs in the US, decided to put a new spin on an old classic by holding a yearly contest to put a new animal (sporting bunny ears) into the ad.
This year's champion, Annie Rose, a English Doodle from Cincinnati, Ohio, is a very special dog who has done a lot of good and brought a lot of smiles these past few years: she is a therapy dog who visits local nursing homes.
Her job was especially important during the COVID-19 pandemic, when restrictions meant that seniors couldn't receive visitors. But Annie Rose continued to delight the seniors by dressing up in costumes and walking around outside the nursing home windows, according to a press release.
"We can't thank everyone enough for voting for our very own Annie Rose and making her the next Cadbury Bunny, especially her doodle families and friends who went over and beyond," said the dog's owner, Lori. "Our community rallied behind and supported her just as she has for them for years as a therapy dog. All of us are still shocked by the news but can't wait to get Annie Rose those iconic Cadbury Bunny ears."
In addition to receiving $5,000 in prize money and getting plenty of bragging rights, Annie Rose will appear in this year's Cadbury ads:
Annie Rose was one of 10 animals who made the final round, and was chosen by an online vote.
Her competition included a hedgehog named Maple, a miniature horse named Sweetheart, a Llama named Eclipse and even a bearded dragon named Cheeto Puff, but in the end Annie Rose reigned supreme.
Hershey donated $5,000 for every 5,000 votes to the ASPCA, up to $20,000, according to a press release.
Previous winners consist of two other dogs named Henri and Lieutenant Dan, along with a frog named Betty. The three previous winners were this year's honorary judges.
Interestingly, Lieutenant Dan also hails from Ohio — it seems the state not only produces many presidents and astronauts, but Cadbury Bunnies, too.
Like Annie Rose, Lietenant Dan won hearts with his inspiring story: he only has two legs, but hasn't let it hold him back. "Lieutenant Dan was born different, but hasn't let that slow him down!" his bio from 2020 read. "He has a joy for life that is infectious and inspiring!"
View this post on Instagram
Congrats to Annie Rose on being chosen as this year's Cadbury Bunny! You definitely deserve it — we can't wait to see your commercial on TV!
Share this adorable news!