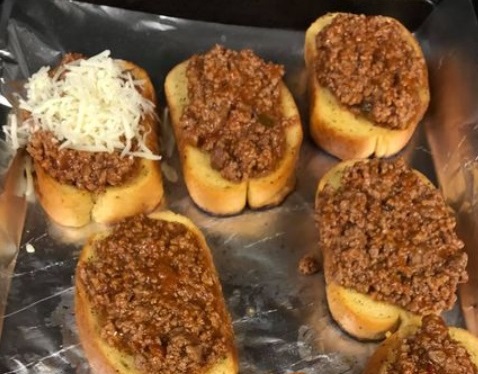 I love those recipes that we all grew up with, they are just too good to miss out on.
My Homemade Texas Toast Sloppy recipe is the most deliciously easy no-fuss weeknight meal that everyone will love !! The best thing about this recipe is that it's easy to make and takes less than 20 minutes to cook, jus give it a shot !!
Sloppy Joes are a mess to eat but a lot of fun to eat. This is an Italian take on sloppy joes, with Texas Toast as the bread and a robust meat sauce and melted cheese on top! Dinner would be a hit with the kids with this meal!
This is a great recipe to make an easy dinner, that everyone in your family will be addicted to it, it's irresistible!!! You should try it as soon as possible you can, and share the final results with us, I really love reading your comments to know what sort of recipes you like!!!
WHAT YOU NEED :
Lean ground beef: 1 lb
Onion: 2.5 cup (chopped)
Garlic powder: half a tsp
Ketchup: 3/4 cup
Tomato paste: 2 tsp
Worcestershire sauce: ½ tsp
Brown sugar: 2.5 tsp
Salt & Pepper – to taste
Green Mill Texas Toast: 4 pieces
Cheddar cheese: 1oz (shredded)
Preparation:
1. Your oven's temperature should be set to 375 degrees.
2. Then brown your ground beef, and onion over medium heat on stovetop. Immediately, drain.
3. You'll want to add in ketchup, tomato paste, Worcestershire sauce, brown sugar, and salt and pepper. And please stir everything well to combine.
4. Once done, you need to cook over medium heat until mixture has thickened according to your taste.
5. In the meantime, make sure Green Mill Texas Toast is placed into preheated oven.
6. Ok, go ahead and bake toast until golden brown, it takes around 5 to 6 minutes.
7. At this point, your Sloppy Joe Mixture should be placed on top of your golden-brown Texas Toast.
8. To finish, top each piece of toast with ¼ oz of Cheddar Cheese.