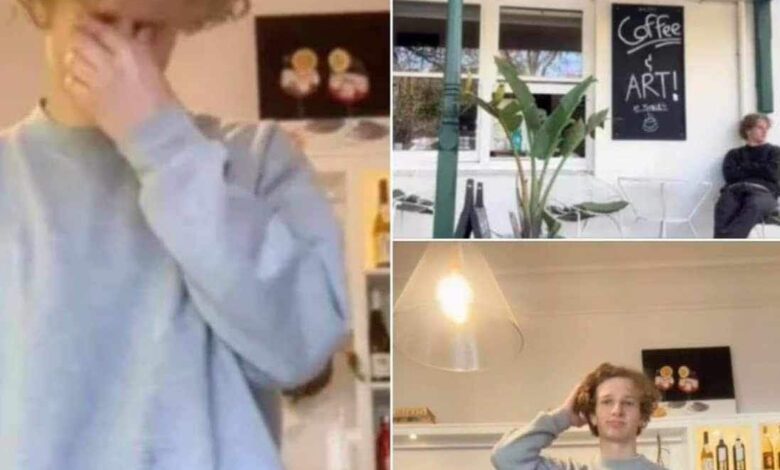 Teenager establishes cafe after graduating from high school but is devastated when no customers arrive.
In life, we often find ourselves facing unexpected twists and turns, and sometimes, our dreams take longer to materialize than we'd hope. Such is the story of Tom Oswald, an 18-year-old from South Australia, whose dream of opening a café became a test of resilience when he saw no customers walking through his doors.
The Dream That Drove Tom
As he graduated from high school, Tom Oswald had a vision that defied the conventional path many of his peers were following. Instead of pursuing further education, he decided to take a leap of faith. Tom envisioned himself as the owner of a cozy café, a place where people could gather for good coffee and warm conversation.
The Birth of a Dream
With unwavering determination, Tom set his sights on the picturesque town of Hahndorf, situated southeast of Adelaide. He invested not only his savings but also his passion and dedication into establishing his café. The café was beautifully crafted, designed to offer an inviting atmosphere to potential customers.
The Heartbreaking Reality
However, when Tom finally opened his café, his dreams were met with a harsh reality. There were no customers in sight. The initial days were lonely and disheartening as he waited, hoping for someone to step inside and savor the essence of his hard work.
Tom's Social Media Revelation
In a heartfelt moment of vulnerability, Tom turned to Social Media to share his struggles. His video quickly gained attention, amassing over two million views. Tom's sincerity touched the hearts of many, prompting an outpouring of support from people near and far.
The Power of Community
Tom's story resonated with people, and they were eager to help him turn his dream into a reality. Many expressed their support, with some even willing to travel just to visit his café.
One supporter commented, "This truly saddens me. Please share the location so I can visit."
Another offered, "I'm even looking into flights just to come and show my support for this cafe."
A third mentioned, "Our group plans to visit Hahndorf in a couple of weeks, and we'll definitely stop by for some coffee."
Tom's Dedication to Improvement
Despite the initial setbacks, Tom remains determined. He dedicated two years of his life to working at another café to gain the necessary experience. He acknowledges there's room for improvement in his coffee-making skills, but his commitment to honing them remains steadfast.
"I'm 18 years old, just graduated from high school, and currently on my gap year. This project is my sole focus," Tom conveyed to News Corp.
"I'm either inside the shop, diligently working, or I'm outside, constantly seeking ways to enhance the business," he added.
Tom Oswald's story is a testament to the resilience of youth and the power of community support. While his café's beginning might have been rocky, his determination to make his dream a reality is unwavering. As Tom continues to learn and grow, his café holds the promise of becoming a beloved community gathering spot.
Watch Tom's video below: