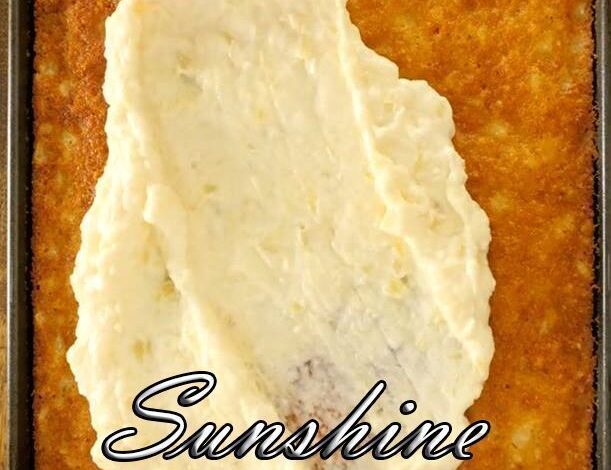 Sunshine Sheet Cake is a delightful dessert that brings a burst of sunshine to your taste buds with every bite. This easy-to-make cake is a perfect treat for any occasion, from family gatherings to potluck parties. Its moist texture and tropical flavor will transport you to a sunny paradise. In this article, we'll explore the ingredients and preparation steps for this delectable dessert, along with some frequently asked questions to ensure your baking success.
Ingredients:
Cake Ingredients:
| Ingredient | Amount |
| --- | --- |
| All-Purpose Flour | 2 cups |
| Sugar | 2 cups |
| Crushed Pineapple (undrained) | 1 (20 oz.) can |
| Eggs | 2 |
| Vegetable Oil | 1/2 cup |
| Baking Soda | 1 1/2 teaspoons |
| Vanilla Extract | 1 teaspoon |
| Salt | 1/4 teaspoon |
Frosting Ingredients:
| Ingredient | Amount |
| --- | --- |
| Cream Cheese (room temperature) | 1 (8 oz.) package |
| Unsalted Butter (room temperature) | 1/2 cup (1 stick) |
| Powdered Sugar | 1 cup |
| Vanilla Extract | 1 teaspoon |
| Crushed Pineapple (undrained) | 1 (8 oz.) can |
Instructions:
Now that we have the ingredients laid out, let's go through the step-by-step preparation process:
Preheat the Oven: Start by preheating your oven to 350º F. Then, lightly grease a 10×15-inch baking sheet or jelly roll pan with butter or non-stick spray.
Mix the Dry Ingredients: In a large bowl or mixer, whisk together the all-purpose flour, sugar, baking soda, and salt.
Combine Wet Ingredients: Add the crushed pineapple (undrained), vegetable oil, eggs, and vanilla extract to the dry mixture. Beat the ingredients together until the batter is well mixed.
Bake the Cake: Pour the batter into the greased baking sheet and place it in the preheated oven. Bake for 22-25 minutes, or until a toothpick inserted in the center comes out clean. Once done, remove the cake from the oven and set it aside to cool.
Prepare the Frosting: While the cake is in the oven, let's prepare the delicious cream cheese frosting. Beat together the room temperature cream cheese and butter until they are whipped and fluffy. Gradually beat in the powdered sugar and vanilla extract. Finally, fold in the undrained crushed pineapple until it's fully incorporated into the frosting.
Frost the Cake: Once the cake has cooled, spread the cream cheese frosting evenly over it. The combination of cream cheese and pineapple creates a luscious, tangy topping that perfectly complements the cake's sweetness.
Chill and Serve: To enhance the flavor and texture, place the cake in the refrigerator for a while or let it set until it's cooled. This step is optional, but it makes the cake even more delightful.
Frequently Asked Questions (FAQs)
Here are some common questions about Sunshine Sheet Cake:
What occasions are suitable for serving Sunshine Sheet Cake? Sunshine Sheet Cake is perfect for various occasions, including birthdays, picnics, potlucks, and family gatherings.
Can I make Sunshine Sheet Cake in advance? Yes, you can prepare the cake a day ahead and store it in the refrigerator. Just be sure to cover it to keep it fresh.
Can I use fresh pineapple instead of canned pineapple? While canned pineapple is recommended for this recipe, you can use fresh pineapple if you prefer. However, you may need to adjust the moisture content.
Is it possible to make a gluten-free version of Sunshine Sheet Cake? Yes, you can substitute gluten-free flour for all-purpose flour to create a gluten-free version of this cake.
Can I freeze leftover Sunshine Sheet Cake? Yes, you can freeze individual slices of the cake for later enjoyment. Wrap them tightly in plastic wrap and store them in an airtight container.
How long will Sunshine Sheet Cake stay fresh? Properly stored in the refrigerator, Sunshine Sheet Cake can stay fresh for up to five days.
Sunshine Sheet Cake is a delightful dessert that brings the warmth and flavor of a tropical paradise to your table. With its easy-to-follow recipe and heavenly taste, it's sure to become a favorite in your household. Whether you're celebrating a special occasion or simply craving a sweet treat, this cake is a burst of sunshine in every bite. So, gather your ingredients and bake up some happiness with Sunshine Sheet Cake!