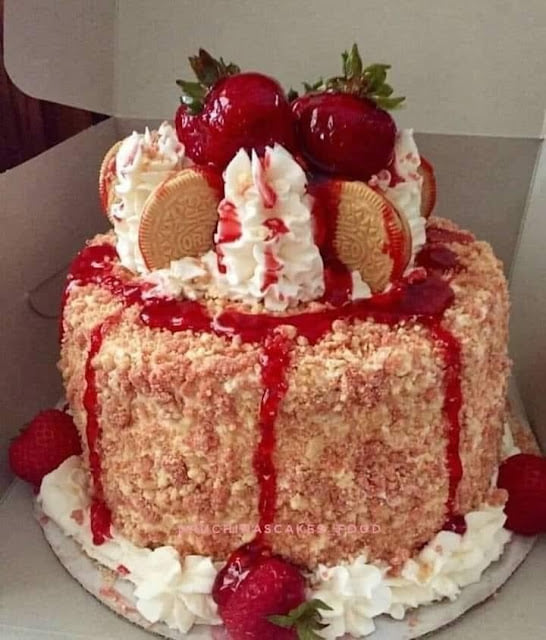 Strawberry Shortcake Cake with Cream Cheese Frosting
The star of this gorgeous cake is the fresh strawberry frosting that's bursting with summer flavors. As impressive as it is, this cake is made with SuperMoist™️ Betty Crocker™️ white cake mix.
° 1 box of Betty Crocker SuperMoist White Cake Mix
° Water, vegetable oil and eggs upon request on cake mix box
° 3/4 cup (175 ml) softened butter
° 125g (4oz) soft cream cheese (half 250g kg)
° 4 1/2 cups (1.125 liters) powdered sugar
° 1/3 cup (75 ml) seedless strawberry jam
° red gel food coloring
° 1 cup (250 ml) fresh chopped strawberries (about 10 medium)
1
Preheat oven 175°C (350°F) or 165°C (325°F) for dark-coated or non-stick pans. Grease the bottom and sides of three 8-inch (20 cm) round cake pans with cooking spray.
2
In bowl, mix cake ingredients with mixer on speed for 2 min, scrap sides of bowl. Pour 375 ml (1 12 C) of mixture To each pan.
3
Baking about 18 to 20 min . Let cool for 10 minutes, then remove the mussels to place on wire racks. Let it cool completely for 45 minutes.
4
In bowl, beat soft butter also cream cheese with an mixer on speed unTo til smooth. On low speed, add the powdered sugar until the frosting is smooth and creamy. Add strawberry jam and vanilla. Good mixing. Color the decorations with food coloring until the desired color is achieved.
5
Place a layer of cake on a serving plate, rounded from top to bottom. Spread 2/3 cup (150 ml) frosting on top. Arrange 1/2 cup (125 ml) of sliced ​​strawberries in a single layer over the garnish to 1/2 inch (1.25 cm) from the edge of the cake. Add the second layer of cake, face down. Spread 2/3 cup (150 ml) of icing cream on top and add remaining strawberry slices; On top of it a third layer of cake, circular face up. Decorate the surface and sides of the cake with the remaining decorating cream. Put the cake in the fridge for at least an hour before serving. Put the whole strawberry in the middle of the cake, on top. Store any leftovers in the refrigerator, covering them slightly.
Enjoy !