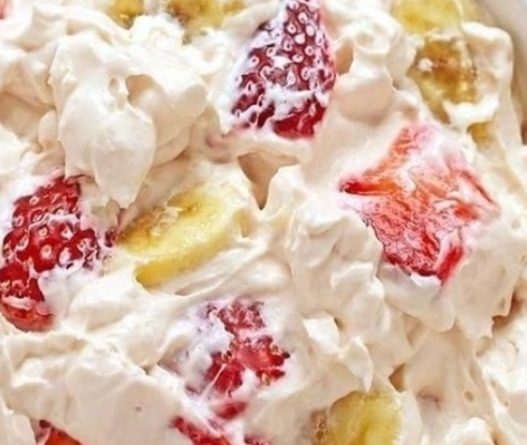 Strawberry-Banana Cheesecake Salad!!!
This is a tried and true recipe !! if you want to satisfy your sweet tooth, you cannot go wrong here. This is the way my Mother always made, jut give a shot it won't fail you !
Simple Strawberry Banana Cheesecake Salad recipe comes together with just 6 ingredients. Rich and creamy cheesecake filling is folded into luscious strawberries and sweet banana to create the most amazing, glorious fruit salad ever! The flavor has been punched up with a secret ingredient and you are going to go nuts over this recipe! The king of the potluck table has arrived.
A few months back I put together this Summer Berry Cheesecake Salad. Well, needless to say it has gone completely crazy on our site. It is already the #2 recipe of all time.
Our readers have enjoyed it so much that I though it was time to whip up a twist on the über popular recipe. I have been on a pudding kick lately. I tell you I have been testing several recipes with pudding as a surprise ingredient.
Ingredient
1 package cream cheese, softened
16 oz of vanilla yogurt
1 (8 oz) tub of cool whip, Thawed
1 (3½ ounce) package cheesecake flavor instant pudding or pie filling mix
½ bag of miniature marshmallows
3 pints strawberries, sliced
4 bananas, sliced
1 container raspberries (optional)
Directions:
In a bowl, mix cream cheese, yogurt, pudding and cool whip until creamy.
Stir in marshmallows.
Fold in fruit.