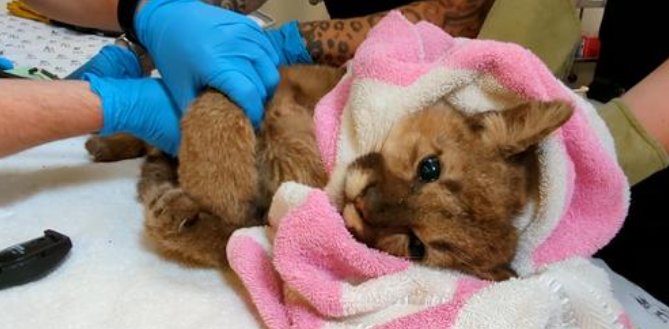 Starving, orphaned mountain lion cub gets a second chance after being saved by vets
Sometimes wild animals are found injured, sick or in need of help, and it takes some kind people to step up and get them back on their feet.
That was the case recently, after one California zoo came to the rescue of an orphaned mountain lion cub.
According to a press release from the Oakland Zoo, the orphaned five-month-old cub, now named Rose, was first discovered by hikers at Thornewood Open Space Preserve in San Mateo, and was clearly in need of help. She was severely underweight, weighing 8.8 pounds when the average size at her age is 30 pounds.
Teams from the Midpeninsula Regional Open Space District and California Department of Fish and Wildlife worked to catch the cub so they could get her the help she needed. The zoo says she was found "in the nick of time," and was in danger of starvation: they estimate she hadn't eaten anything in weeks.
"She is excruciatingly thin," said Dr. Alex Herman, the zoo's VP of Veterinary Services. "To survive, her body resorted to consuming its own muscle mass. She is also suffering from extreme dehydration, and her temperature was so low it couldn't even be read."
Now, Rose is receiving treatments at the Oakland Zoo, where vets are providing round-the-clock care. She was covered in fleas and ticks, and had a very low blood cell count, and could receive a blood transfusion.
They say that while the mountain lion cub has a long way to go, they are cautiously optimistic about her recovery. They are continuing to keep an eye on her vitals and do blood tests, and say she has regained some strength and ate meat.
But the zoo says that, even if she recovers, Rose won't be able to be released into the wild. This is because mountain lions learn survival skills in their early years from their mothers, and as an orphan Rose wouldn't survive.
But Rose will have a place to stay for the next few months as she continues her hopeful recovery, and if all goes well she will find a new, permanent home in an accredited zoo.
We're so glad this poor mountain lion cub was found just in time, and these kind vets are working hard to save her life.
Share this inspiring news!