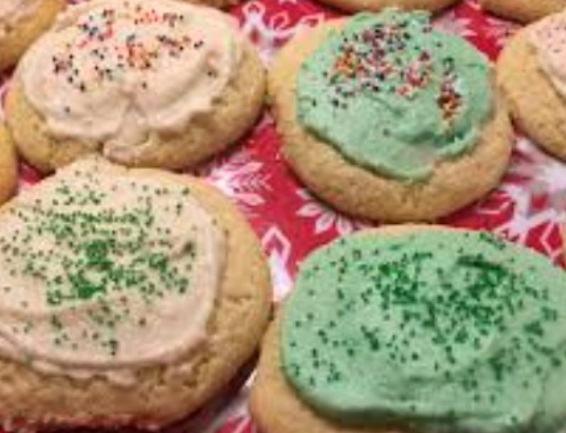 SOFT SOUR CREAM SUGAR COOKIES!!!
A standout amongst other sugar treats out there, these delicate sharp cream sugar treats are thick and super delicate and astonishing for any event! Tune in, I love sugar treats as much as anyone else. Most likely much more. In case we're being straightforward with one another, a very delicate, thick-cut, gently iced sugar treat is my kryptonite. I have another most loved roll-and-cut sugar treat formula that is incredible, however, these delicate acrid cream sugar treats are straight up there with some other top pick.
Simple, easy and cheesy! My whole family loves this recipe so much. If it were for them, I'd be making this every day! Give it a shot, you'll love it!To Make this Recipe You' Will Need the following ingredients:
Ingredient
makes 10 to 12 large cookies ~
2 and 3/4 cup all purpose flour
1/2 teaspoon baking soda
1/4 teaspoon salt
1/2 cup sour cream (not lite, and not yogurt)
1/2 cup unsalted butter, softened
1 cup sugar
1 large egg, lightly beaten
1/2 teaspoon pure vanilla or almond extract
Once cookies are completely cool, make your frosting:
4 cups powdered sugar
2 Tablespoons butter, softened
2 Tablespoons cream cheese, softened
1/2 teaspoon pure vanilla or almond extract
add milk, 1 Tablespoon at a time, to reach desired consistency
Method Of Preparation
Mix the flour, baking soda, and salt in a large mixing bowl and combine the ingredients using a wire whisk.
In the bowl of a counter top mixer (such as a Kitchen Aid) mix: the sour cream, butter and sugar until light and fluffy. Add the egg and flavor extract. Mix until just evenly combined.
Mix wet and dry ingredients together just until combined. Don't over mix.
Gather the dough into a ball and flatten it into a disc. Place cookie dough in a large Ziploc bag and chill it in the refrigerator for 1 to 2 hours.
Once dough is chilled, preheat your oven to 350 degrees F. Roll out dough on a floured surface so it's 1/4 inch thick.
Cut out your cookies using your favorite cookie cutters and place the cookies on a lightly greased cookie sheet, or line the sheet with cooking parchment or a Silpat mat.
Bake for 8 to 10 minutes, or just until lightly golden brown on the bottom and completely set.
Don't over bake or your cookies won't be soft. Cool on baking sheets for 3 minutes and transfer cookies to a wire rack to cool completely before frosting.
Place all ingredients in a large bowl, and using an electric mixer, mix until light and fluffy. Add milk to reach desired consistency… I used 5 Tablespoons.
Frost cookies and add sprinkles. Store in an air-tight container on your counter for up to 3 days, otherwise store them in your refrigerator. They're best when they're very fresh.