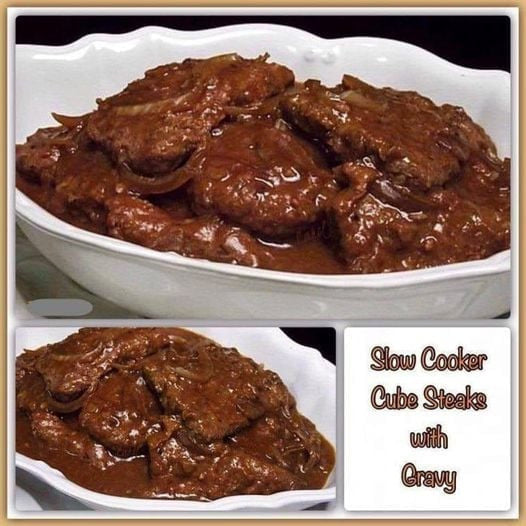 SLOW COOKER CUBE STEAKS WITH GRAVY!!!
Have you ever tried something so delicious you can barely stand it This is one of those recipes.
Made this last night and it was delicious!! Cubed steak wasnt tough at all. Will definitely make again!
Slow Cooker Cube Steak and Gravy is an easy-to-make, hearty, down-home comfort meal, perfect for a busy day! This recipe is a cinch to adapt, a meal that the entire family will love, and budget-friendly, of course!
It is nice to get the cooking done early in the day while the kids are at school. Serve with mashed potatoes or noodles.
Ingredients :
1 large onion, thinly sliced
1/3 c. all-purpose flour
1 tsp. garlic powder
1 tsp. onion powder
1/2 tsp. black pepper
6 (about 4 oz. each) beef cube steaks (I usually buy the family pack of cube steak, and cut them in half if the slices are really big-I don't pay attention to the weight of the package, there's always plenty of gravy)
1 Tbsp. canola oil
3 c. water, divided
1 envelope brown gravy mix (I use the reduced sodium brown gravy mix)
1 envelope mushroom gravy mix
1 envelope onion gravy mix
Hot mashed potatoes, cooked rice or cooked noodles
Directions :
Spray the inside of a 3-5 quart slow cooker with nonstick cooking spray. Place the sliced onions in the slow cooker.
Combine flour, garlic powder, onion powder and pepper in a large resealable plastic bag. Add steaks, a few at a time; shake until completely coated.
Heat the oil in a large skillet over medium heat. Add the steaks, a few at a time, and cook until lightly browned on each side. Place the browned steaks on top of the onions in the slow cooker. Pour 2 c. water over all. Cover; cook on Low for 8 hours or until meat is tender.
In a bowl, whisk together the 3 gravy mixes with remaining 1 c. water. Add to slow cooker; cover and cook on Low for 30 minutes longer.
Serve over mashed potatoes, rice or noodles. 6 servings.
ENJOY!