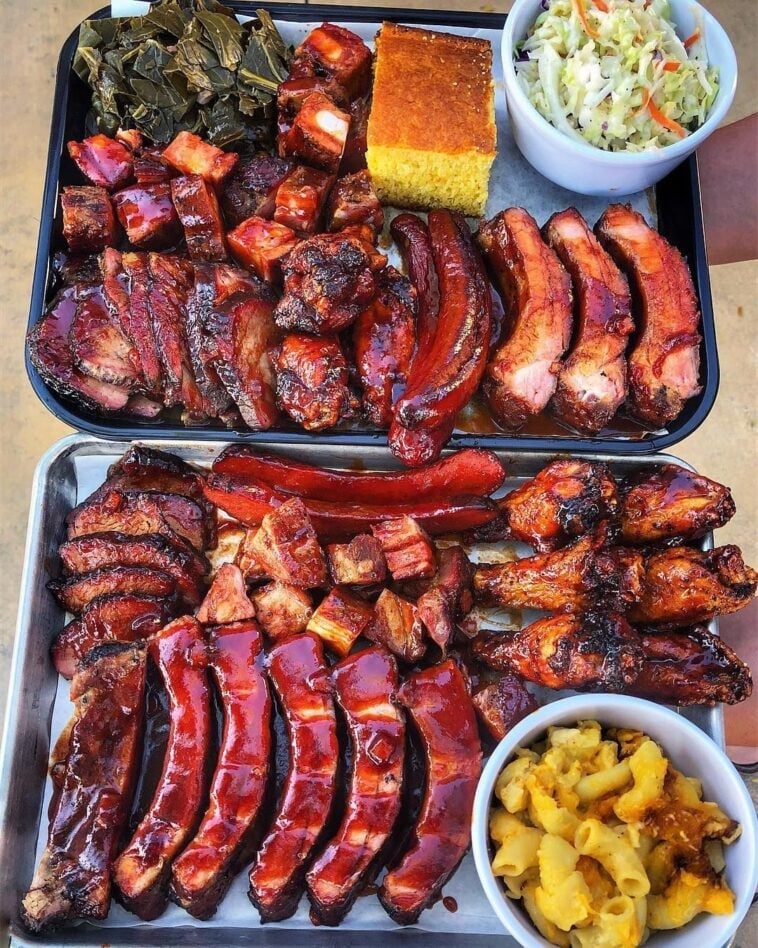 Slow Cooker Barbequed Beef Ribs
Ingredients
Beef : 4 ribs on the bone (I slice them individually)
Onions: 2 large (cut into feathers)
Garlic, : 10 (peeled and crushed)
Mustard: 2 tablespoons (preferably Dijon mustard)
Beef stock: 1 liter (low-fat if possible, reduced to 1/2 liter)
Beer: 1/2 liter
Bay : 2 leaves
Black peppercorns: 20 (crushed)
Salt: 1 teaspoon
Flour: 1/2 cup
Cornstarch: 2 tablespoons
Other ingredients include Olive oil / Salt and ground black pepper
This is for 4 people
How To Make Slow Cooker Barbequed Beef Ribs
1. Reduce the liter of meat stock over high heat together with the peppercorns, which have been previously crushed, and the bay leaves before preparing the meat and vegetables. And please let it cook until it has reduced to half if you want to cook the ribs in a much tastier meat broth.
2. After that, go ahead and remove from the heat and dissolve the mustard in the broth then set aside.
3. As mentioned above, you should cut the ribs individually, season them with salt and pepper. Lightly flour them. In a frying pan with a bit of oil over medium-high heat, cook them until they get some color.
4. Meanwhile, I find it very useful to place them on a plate with absorbent paper to remove excess oil.
5. Ok, now that you have sealed the ribs in the frying pan, there are not many impurities, and you see that the oil is not burnt, go ahead and sauté the vegetables in the same frying pan. You want to add more oil if necessary. Make sure to sauté it in clean oil until it starts to brown—season with salt and pepper, just if you see that the oil is not in good condition.
6. Now that the vegetables are ready, go ahead and add the flour leftover from the ribs' breading, a dash of water to the frying pan. Ok, be sure to cook for another 2 or 3 minutes.
7. We already have the broth reduced, the meat sealed, and the vegetables browned. It is time to pour everything into the pot:
8. It's necessary to cover the bottom with the onion.
9. At this point, you need to introduce the ribs with the bone upwards.
10. Immediately run the meat stock then pour as much beer as it is necessary to reach the bone. I needed about 35 cl, so it is not required to cover them.
11. Once done, go ahead and cover the pot and cook at low power for 5 hours and 30 minutes, checking at 5 hours and then every 30 minutes, until the ribs are tender. And please be careful not to let the pot lose temperature.
12. Time done, let them rest in the same pot covered for 120 minutes on the program that keeps the food warm.
14. Then you can transfer the ribs to the casserole, serve them or reserve them but do not turn off the pot. Always remember to correct the salt level.
15. We recommend you to eat these stews the next day so that the meat softens a little more; the flavors concentrate, and did I mentioned ? you'd best eliminate the fat that solidifies on the surface.
16. Dissolve the two tablespoons of cornstarch in 2 tablespoons of water, pour it into the pot, and mix well. Continue cooking the sauce at high power for half an hour.
17. Now that the time has passed, finish your sauce by removing the bay leaf and adding it to the casserole where you have the ribs. I recommend tou to whisk the sauce before if you prefer it thinner