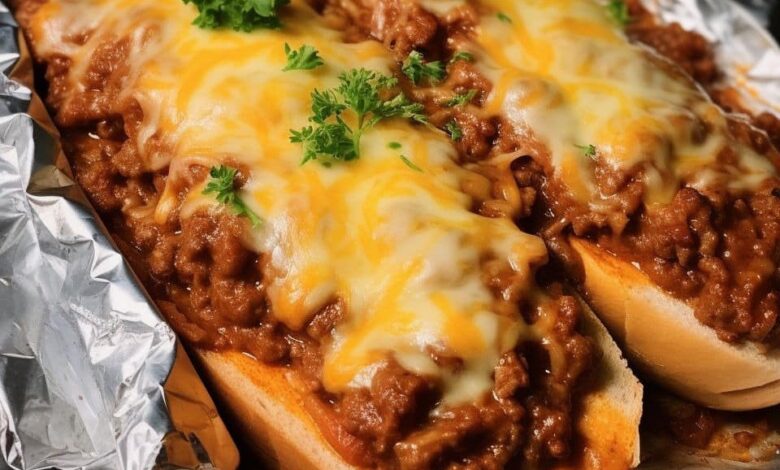 Sloppy Joe Garlic Bread is a delightful twist on a classic comfort food. Combining the flavors of Sloppy Joe's sauce, ground beef, and melted cheese on toasted garlic bread, this dish is sure to be a hit with family and friends. In this step-by-step guide, we'll walk you through the process of creating this mouthwatering meal.
Thaw Frozen Garlic Bread
To get started, you'll need the following ingredients:
Thaw Frozen Garlic Bread (10 ounces)
Thawing frozen garlic bread is the first step in this recipe. Place the frozen garlic bread on a baking sheet and allow it to thaw at room temperature for about 30 minutes.
Preparing Ground Beef and Onion
For the meaty component of our Sloppy Joe Garlic Bread, you'll need:
1 pound ground beef (lean)
½ cup onion (chopped)
1 tablespoon of unsalted butter
Salt and pepper to taste
Preheat the oven to 375°F (190°C).
In a skillet, melt the unsalted butter over medium heat.
Add the chopped onion to the skillet and cook until it becomes softened.
Making Sloppy Joe's Sauce
The heart of any Sloppy Joe dish is the sauce. You'll need:
15-ounce can of Sloppy Joe's Sauce
Once the onions are soft, add the lean ground beef to the skillet.
Cook the ground beef until it turns brown, and be sure to drain off any excess fat if necessary.
Stir in the Sloppy Joe's Sauce, adding salt and black pepper to taste. Allow it to simmer for a few minutes until it's heated through.
Assembling the Sloppy Joe Garlic Bread
With your sauce and meat mixture ready, it's time to assemble the Sloppy Joe Garlic Bread. You'll need:
Thawed garlic bread (from earlier)
Prepared Sloppy Joe's mixture
2 cups grated cheese (we used Colby Jack)
While the meat mixture is simmering, cut the thawed garlic bread in half horizontally.
Place the garlic bread halves on a baking sheet.
Spread the Sloppy Joe's mixture evenly over one half of each garlic bread half.
Sprinkle the grated cheese over the Sloppy Joe mixture.
Baking and Serving
Place the assembled garlic bread in a preheated oven at 375°F (190°C).
Bake for approximately 15 minutes or until the cheese melts and bubbles.
Once done, remove it from the oven, cut it into slices, and serve it hot.
Sloppy Joe Garlic Bread is a scrumptious and comforting dish that will satisfy your taste buds. With its combination of savory Sloppy Joe flavors and the crunch of garlic bread, it's a culinary delight worth trying. Keep this recipe handy, and you'll be the star chef at your gatherings.