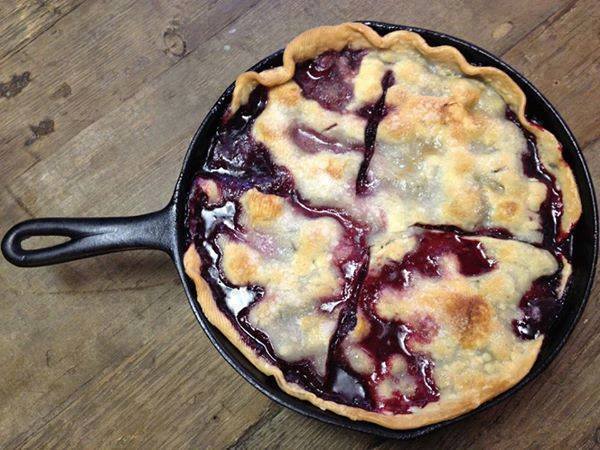 Skillet Blackberry Cobbler
Don't make this in anything but a big black skillet~it won't turn out the same!
Ingredients:
1 box of 2 refrigerated pie crusts (I prefer Pillsbury)
2 (14-16 oz) bags frozen blackberries
1 stick butter, melted
1⅓ cups sugar (for berries)
½ cup flour
¾ cup sugar (for crust)
½ stick butter, cut into small cubes
½ cup water
Instructions:
1.Heat oven to 350 degrees.
2.Unroll one pie crust and place in bottom and up sides of 12 " cast iron skillet.
3.Pierce bottom and sides of crust with a fork.
4.Bake 7 minutes; remove from oven.
5.Increase oven temp to 400 degrees.
6.In a large bowl, mix melted butter, 1⅓ cups sugar, and flour.
7.Put berries in bowl with butter/sugar/flour mixture; toss until berries are covered and mixture is crumbly.
8.Gently pour berries into skillet; sprinkle water over berries.
9.Unroll second pie crust over top of berries, sealing at the edges of the skillet.
10.Scatter the small pieces of butter on top of the crust.
11.Sprinkle ¾ cups sugar on top of crust.
12.Cut tiny slits in top of pie crust.
13.Bake approximately 45 minutes or until bubbly at edges and beginning to brown on top.
14.(I highly recommend a pie shield to keep edges of crust from burning.)