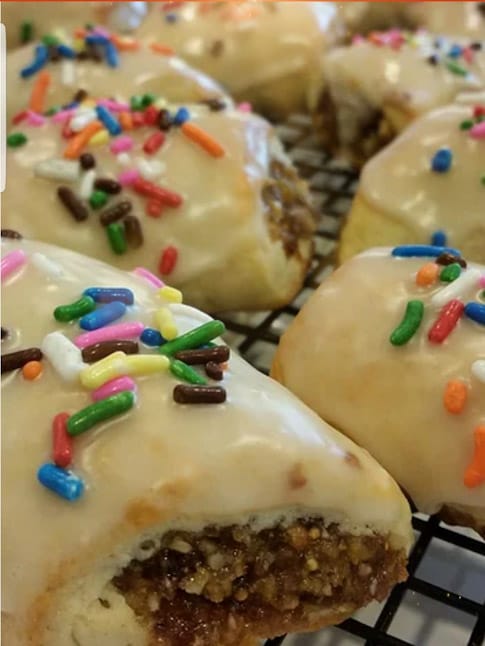 Ingredients
2 ½ cups all-purpose flour
¼ teaspoon salt
2 ½ teaspoons baking powder
Advertisements
½ cup white sugar
1 cup unsalted butter
2 eggs
½ teaspoon vanilla extract
¼ cup milk
2 cups chopped dried figs

1 cup raisins
1 massive orange
2 cups toasted walnuts, chopped
1 cup honey
Advertisements
½ cup darkish rum
1 teaspoon floor cinnamon
Directions
Step 1
To make Pastry: Combine flour, sugar, baking powder and salt in a massive mixing bowl. Add the butter, eggs, vanilla and milk. Stir into a easy dough. Remove dough from bowl and form into a circle. Cut into four equal pieces, wrap in plastic and chill.
Step 2
To make the Filling: Use the zest and juice of the orange and vicinity in giant bowl. Mix in figs, raisins and nuts. Process in meals processor till evenly chopped. Stir in honey, rum and cinnamon, and set aside.
Step 3
Preheat oven to four hundred tiers F (200 ranges C). Grease cookie sheets.
Step 4
Remove dough from refrigerator. Roll one piece of dough at a time into an 8-inch vast strip about 1/4-inch thick. Cut lengthwise in half, forming two long strips, every about four inches wide. Lay strips on work surface. Brush pinnacle inch of every with bloodless water. About 1/3 of the way up from the backside of the dough, region 1/4 of the filling in a 1-inch broad strip, strolling from quit to end. Fold the moistened facet of the dough over the filling and press to seal edges. Cut every strip into 1-inch rectangles and location on cookie sheets. Repeat with closing sections of dough.
Step 5
Bake thirteen to sixteen minutes, or till tops are golden. Let cool on cookie sheets for 10 minutes. Transfer to wire racks.