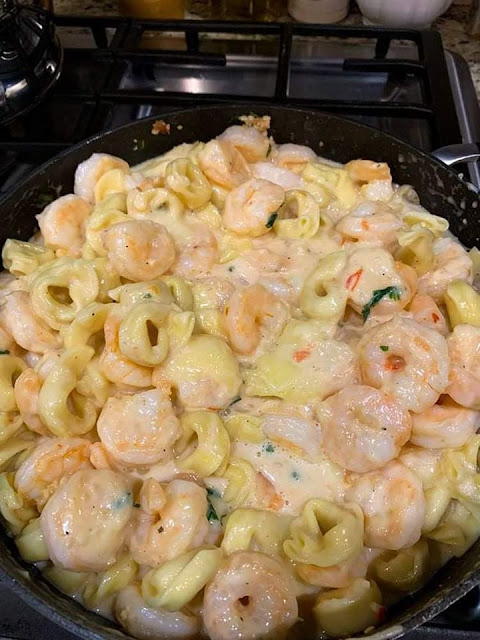 SHRIMPTORTELLINI-ALFREDO-SKILLET
Shrimp in cream sauce with cheese and mushrooms. Quick and easy dish: ready in 15 minutes. Shrimp, garlic, shallot, cream, broth, parmesan, mushroom. Delicious with pasta, potatoes (steamed or mashed) and other vegetables to taste.
* Ingredients:
° 500g peeled shrimp with or without tails, fresh or frozen (in this case thawed) – see note 1
° 250 g of mushrooms (mushrooms and / or porcini mushrooms and / or morels, …)
° 2 tablespoons butter (or olive oil)
° 1 shallot, peeled and finely chopped
° 2 garlic clove, peel & mince
° ½ cup  125ml vegetable or chicken broth (or reconstituted with water and a little powdered broth)
° 1 cup  250 ml  250 g of liquid cream (I put 1½ cups  375 ml)
° ½ to 1 cup  50g to 100gm grated Parmesan cheese (or other cheese of your choice, Gruyere, Cheddar, …)
° 1 tablespoon of a mixture of Italian herbs or herbs of Provence (or fresh herbs to your taste: parsley, cilantro, …)
° Half a teaspoon of paprika
° Salt, freshly ground pepper to taste
* Preparation:
Rinse or wipe the mushrooms quickly. We cut it into slices.
Peel the shallots and garlic and chop into small pieces.
Grate the Parmesan cheese if you haven't already.
Cut aromatic herbs if you are using fresh herbs.
Preparation shrimp with sauce:
In  skillet, heat butter or oliveoil.
Fry shallots and garlic without burning them.
Add shrimp and quickly saute, 1 minute per side. Sprinkle with spices and herbs. mix up.
Remove shrimp from heat and set aside on a plate.
Put the mushrooms in the pan and fry, stirring occasionally, until light brown. But if you use canned mushrooms, this step is not necessary.
Return shrimp to skillet and pour in broth, cream, and Parmesan cheese. Pepper and salt to taste (I do not salt, remember that broth and cheese are salty).
Boil the water. Reduce the heat and simmer over medium-low heat for a few minutes to get a thick sauce. You'll know it's ready when the sauce covers the back of the spoon. Remember that the sauce will thicken as it cools.
Feet it right away. Good tasting!
Enjoy!