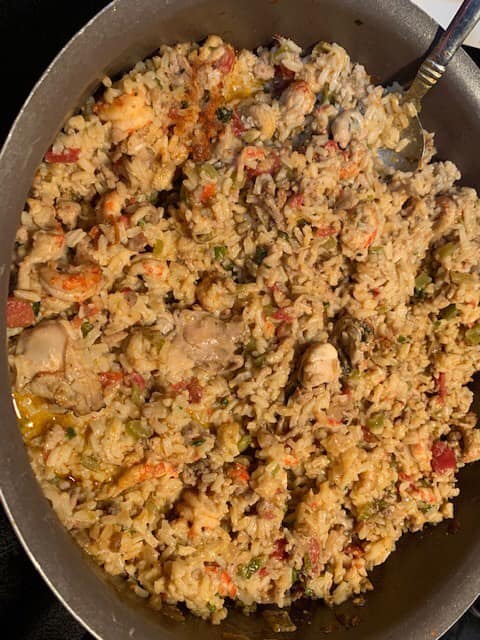 Seafood Rice Dressing
2 cups long-grain white rice (cooked)
2 medium onions, chopped
5celery ribs, chopped
1 large green bell pepper, chopped
1 cup thinly sliced green onions
2 tablespoons extra virgin olive oil
Half stick unsalted butter
4 cloves garlic, finely chopped
1 can Rotel tomatoes
1 cup seafood stock
1 teaspoon flour
1 cup water
2 teaspoons salt
½ teaspoon cayenne pepper
¼ or ½ (to taste) teaspoon crab boil
½ teaspoon Old Bay seasoning
1 tsp Cajun seasoning (I use Tony's )
1 pint raw oysters (drained but save the liquor)
3 tablespoons oyster liquor
1 1/2 pound crawfish, peeled & deveined (with the fat if you have it)
Sauté onions, celery, and bell pepper in oil and butter in a heavy pot (Magnalite works perfect) over moderately heat, stirring occasionally, until vegetables are softened, 10 to 12 minutes.
Add garlic, Rotel (with juice), water, stock, flour, all seasonings and simmer, uncovered, stirring frequently to prevent scorching, until it thickens, 45 to 50 minutes.
Add seafood (I usually also add crab for this recipe but I didn't have any) and simmer, stirring frequently, until just cooked through, 2 to 3 minutes. Add green onions, rice, and the oyster liquor and stir until combined well, then season with additional seasonings if desired. Top with pats of butter and let melt.
*After adding the rice, I usually let the bottom get cooked well done so there are some crispy bits after final stirring.
Enjoy!!!