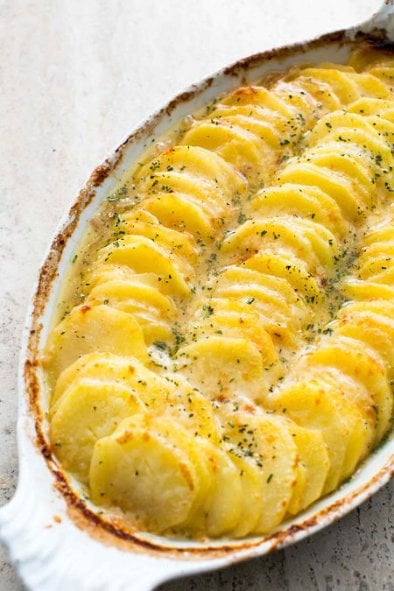 This is the recipe for Norman golden potatoes.
INGREDIENTS
6 cups (1.5 liters) Yukon Gold potatoes, peeled and thinly sliced

1/2 cup (125 ml) finely chopped onions

2 cups (500 ml) canadian swiss grated

Salt and pepper from the grinder

1 1/4 cups (310 ml) chicken broth

2 tbsp. (30 ml) all-purpose flour
Heat oven 350°F (180°C).
In a 9-inch (23 cm) square tray, place half the potato, half the onion, and half the cheese in successive layers. Sprinkle with a little salt and pepper. Distribute the other half of the ingredients in the same way.
In a bowl, gradually pour the chicken broth into the flour until the mixture is smooth.
Pour the potatoes and cheese.
Baking about 1 H or to potatoes are soft & cheese is golden brown.
Leave it for 5 minutes before serving.
Enjoy !!!