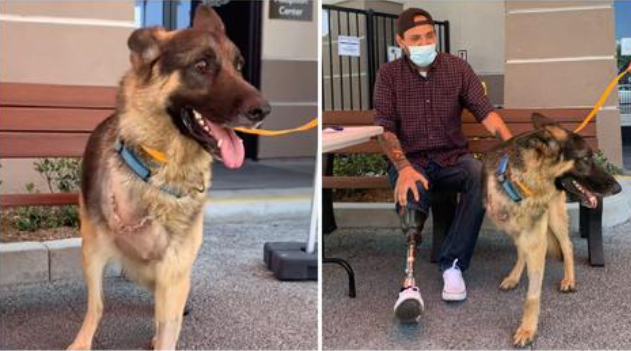 Rescue dog with amputated leg gets adopted by veteran who also lost a leg
All dogs deserve a perfect forever home, even ones that look a little different. Special needs dogs need the most love, and just need to find that special human who understands them.
And sometimes, these dogs end up with kindred spirits who are just like them. That was the case recently, after a veteran with an amputated leg adopted a special rescue dog who also lost a leg.
A stray German Shepherd named Kane was struck by a car, badly fracturing his right leg. When he arrived at Inland Valley Humane Society, in Pomona, California, they had to amputate the leg.
But Kane hasn't let losing a leg keep him down. According to NBC Los Angeles, the three-legged dog still "runs like he has all four legs."
                                            Screenshot
Kane was put up for adoption. It can often be hard to find a forever home for a differently-abled dog: they get passed over in favor of "normal" dogs at the shelter by prospective adopters.
But when Dane Orozco visited the shelter looking for a new pet, he immediately knew that Kane was the perfect dog for him.
It turned out, they had something big in common: they both lost their right legs.
According to the Inland Valley Humane Society, Dane is a veteran who lost his leg during his deployment. Part of his reason for wanting a new pet was to cheer him up.
"I deal with a lot of depression, so my boss was like, what do you like? What would make you happy? I said, 'I always had dogs, but I haven't had a dog in a long time,'" he told NBC Los Angeles.
Once he saw Kane, happily standing on three legs, he knew it was meant to be. "As soon as I saw him, I fell in love with him," Dane said. "I felt that instant connection with him. Look at him, he's perfect."
"I just had to get him. I know the feeling of being passed over because of this."
Kane is now very happy with his new owner. According to NBC, Dane takes him to work so he's always there to provide support when he needs him.
The Humane Society was thrilled to see Kane go to such a perfect home. They shared the inspiring story in a TikTok video, which has gone viral with almost 13 million views.
"We wish them the best on their future adventures," the shelter wrote.
How remarkable that Kane and Dane found each other — it is truly a friendship that was meant to be.
Having a friend who shares your disability can be great for your self-esteem, and we're so glad these two will always have each other.
Share this incredible story!