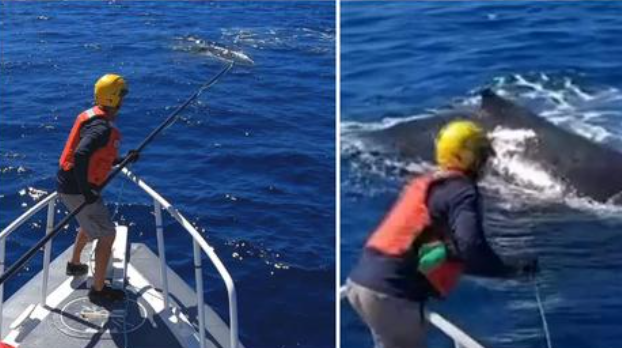 Rescue crew saves humpback whale tangled in fishing lines
The ocean is so full of beautiful marine life, that it's always heartbreaking to see these creatures hurt by human interference.
Like one humpback whale, who was covered in hundreds of feet of fishing line and debris. But thankfully, one rescue crew saved the day.
According to a release from the National Oceanic and Atmospheric Administration (NOAA) via Storyful, on February 14 a NOAA response team headed out on the water off the coast of Lahaina, Hawaii to save the humpback whale.
Her head was tightly wrapped in 550 feet of fishing line, which was causing scarring around her face. She was found traveling with her calf and a male.
"The debris included a dozen different types of lines and netting, with at least 30 feet of thick line estimated at greater than 1 1/2" in diameter," NOAA reported.
The rescue was captured on video, showing the crew's struggle to get a hold of the net as the whale swims by.
Finally, they are able to pull the debris off of her, freeing her from the discomfort. The NOAA said in their press release that the rescue will increase the odds of survival of the mother and her calf.
They say that after the rescue, the whales went into "resting behavior," and the calf tucked itself under its mother's chin.
Thank you to these rescuers for saving this humpback whale! We're so glad she's free and safe now!
Share this amazing news!