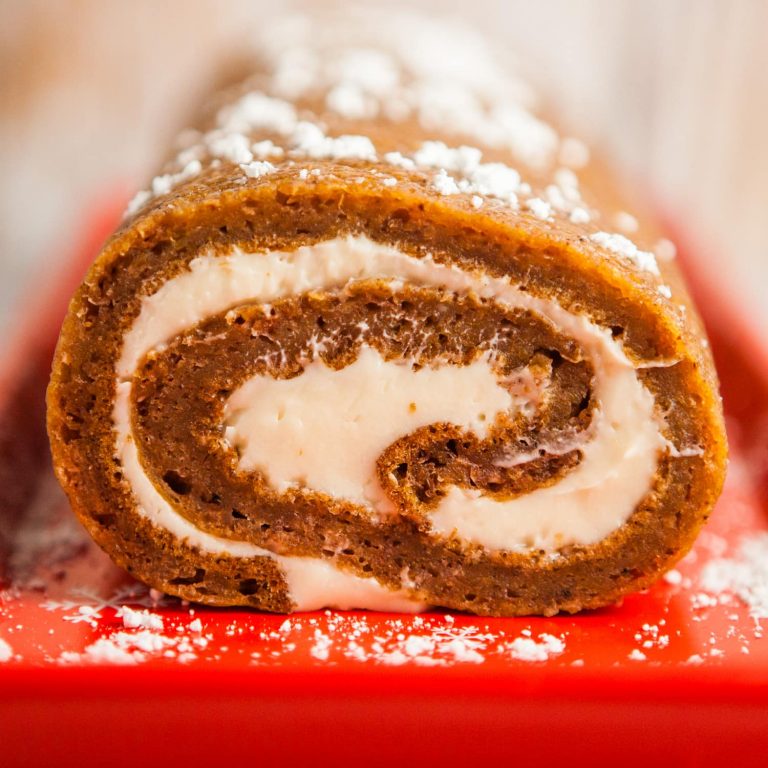 My Pumpkin Cake Roll has a moist pumpkin cake filled with rich, silky cream cheese frosting!! This classic pumpkin roll recipe will be the hit of all your fall baking!  YOU WILL NEED: ° Eggs: 3 (large) ° Sugar: 1 cup ° Pumpkin: 2/3 cup  ° Lemon juice: 1 tablespoon  ° Flour: ¾ cup  ° Baking powder: 1 teaspoon ° Cinnamon: 2 tablespoons ° Ginger: 1 tsp  ° Nutmeg: ½ teaspoon  ° Salt: ½ teaspoon
#FOR FILLING:  ° Cream cheese: 1 cup ° Butter at room temperature: 4 tablespoons ° Sugar: 1 cup ° Vanilla extract: ½ teaspoon ° Powdered sugar for decoration: (optional)
HOW TO DO IT : 1- First of all, you must mix the eggs with the sugar and with an electric mixer, until you obtain a creamy texture. 2- Always remember to set the temperature of your oven to 180°C and to cover a baking sheet with baking paper.
3- You can then add the lemon juice and the pumpkin. And keep stirring until the ingredients are incorporated. 4- Then you will take another bowl and put together the flour, baking powder, salt, ginger, nutmeg and cinnamon, mixing well. You will want to add the mixture to the egg mixture and whisk until you have a sticky mixture.
5- At this point, the mixture should be poured onto a baking sheet and put in the oven for about 15 minutes. 6- Once finished, take the baking sheet out of the oven and place the cake on a towel then spread with powdered sugar. Leave to cool completely for about 10 minutes.
7- The cake should be wrapped on a towel like a sandwich and set aside until you are comfortable. 8- To prepare the filling, you must mix the cream cheese and the butter with an electric mixer.  9- Good now, add the sugar and vanilla to the mixture. And keep whisking until the ingredients are smooth.
10- Immediately open the cake and spread the filling evenly. Do not forget, roll the cake again without the tea towel.  11- Make sure to cover the Swiss roll with plastic wrap, then put it in the fridge until it cools, it takes about 60 minutes. 12- The last step is to sprinkle icing sugar on the face (as you wish) before applying it to your trip & ENJOY!!!