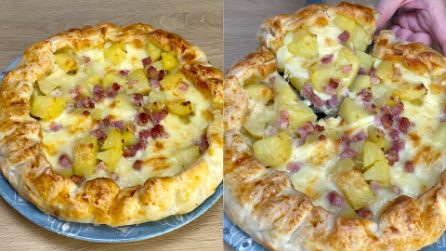 Puff pastry pie with potatoes, speck and cheese
Cheesy and delicious, ready in just 30 minutes!
INGREDIENTS 
puff pastry
4 potatoes
salt
pepper
olive oil
speck
METHOD
1. Peel and cut the potatoes, then cook them in the microwave for 8 minutes.
2. Add salt, pepper, olive oil and speck.
3. Pour the mixture over the puff pastry and bake for 30 minutes at 190°C/360°F.
4. Serve it.