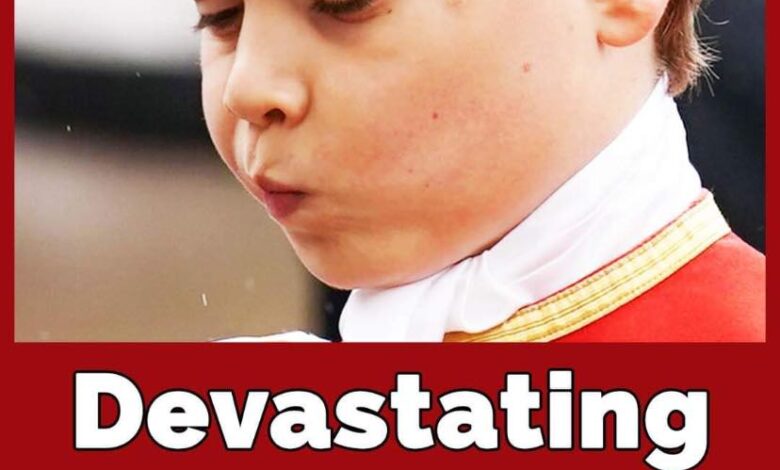 Prince George was afraid of being bullied – he persuaded King Charles to break royal protocol before coronation
Prince George had one of the most honorable roles during his grandfather's coronation this past weekend. The young prince served as Page of Honor at the center of the ceremony at Westminster Abbey. 
There are hundreds of royal traditions that go back centuries, ranging from what to eat, how to eat, how to stand, and how to behave in certain situations. Dress code is critical, and was unsurprisingly a big topic of discussion at the coronation.
According to the Daily Mail, Prince George actually had a say in what he wore for King Charles's big day. The newspaper say the 9-year-old went to his grandfather before the coronation and persuaded him to change his clothing. The reason? Well, it's actually rather sad…
King Charles's coronation will undoubtedly go down as a huge success, at least for pro-monarchists. Thousands of people lined the streets of London to cheer the royals on, and the proceedings appeared to go off without a hitch.
Coronation of King Charles & Queen Camilla
There were of course protesters – those who believe the Royal Family's existence is a needless expense in the modern world – but millions tuned in to watch King Charles and Queen Camilla crowned at Westminster Abbey. As per reports, the historic event was watched by a peak television audience of 20 million Brits on Saturday, making it the most-watched TV broadcast of the year. That said, it attracted substantially fewer viewers than the funeral of Queen Elizabeth II in September last year, which had an estimated audience of 29 million people.
The ceremony in Westminster Abbey passed without incident, and the royals ended their big day with the classic handwaving on the Buckingham Palace balcony while jet planes did a flyover above. Prince William and Kate greeted crowds outside the Palace along with their three children, Prince George, Princess Charlotte, and Prince Louis.
There can be no doubting that King Charles and Queen Camilla were the stars of the show on coronation day. But the fact that Prince George, a future king, got the honorable assignment as one of the Pages of Honor shows that he is steadily being fed more and more responsibility as a member of the Royal Family.
It will be many years before he's expected to start working full time, but it's interesting to see that he's already being prepared for his future duties.
Naturally, many eyes were on Prince George during coronation day. He performed his duties exceptionally, and drew praise on social media after the ceremony.
Prince George – Page of Honor at coronation ceremony
By all accounts his parents, Prince William and Kate Middleton, did everything they could to prepare George for coronation day.
While they both reportedly argued beforehand about whether or not their eldest son was ready for a significant role in the coronation, the Prince and Princess of Wales endeavored to give George everything he needed to succeed. According to royal expert and author Ingrid Seward, he – along with his younger siblings, Prince Charlotte, and Prince Louis – was given lessons of a sort.
Of course, neither William nor Kate had been at a coronation before, but they received a detailed plan of how Charles's big day would go down. Reports stated there wouldn't be any rehearsals for the royals prior to the ceremony, but Willim and Kate felt it necessary to help George in the best way possible.
Together, they're said to have settled on a rather exciting method: theater.
"By making it fun and by re-enacting parts of what their grandfather will be doing, both she and William hope George won't be too daunted by his responsibilities," royal expert and author Ingrid Seward said before the coronation.
"He will form part of the King's Procession with the three others through the nave of Westminster Abbey."
Moreover, William and Kate used their computers to give their children a "virtual tour" of how Westminster Abbey was to look on the big day.
"If [George] can visualise where he is supposed to go and what to do, it will reduce any nerves he might feel being the youngest page. The other three boys are 13 and 12 respectively," Seward explained.
"No doubt George has had a bit of teasing"
The royal expert continued: "He will also have to get used to the idea of wearing the red-coated livery and lace of a page of honor, as I can't see him going in a jacket and tie."
"Prince Michael of Kent, who was 11 at the late Queen's Coronation, recalls his buckle shoes and dark green velvet jacket and how his schoolfriends teased him about wearing 'fancy dress.' No doubt George has had a bit of teasing to," Seward concluded.
"But on the day, he will have the last laugh over his friends. When they watch on TV he will be there and they won't. He will certainly never forget it."
The different outfits for the coronation proved a spectacle in themselves. Officials worldwide came dressed in the most beautiful clothing, with some taking the opportunity to celebrate their country's traditional garments.
Prince William wore the ceremonial dress uniform of the Welsh guards, while Kate Middleton wore an official robe over an Alexander McQueen ivory silk dress. It was decorated with silver bullion embroidered roses, thistles, daffodils, and shamrock motifs, which were to symbolize the different nations of the United Kingdom, CNN reported.
As mentioned, some international guests wore more traditional garments. For example, Prince Akishino and Crown Princess Kiko of Japan wore their morning suits and patterned silk kimonos, including an obi belt. The theme of traditional dresses continued with King Jigme Khesar Namgyel Wangchuck and Queen Jetsun Pema of Bhutan.
In addition, as CNN reports, the King and Queen of Bhutan wore a Bhutanese Gho, while Queen Jetsun Pema wore a lilac-colored kira, a traditional wrap dress typical in Bhutan.
Prince George feared being bullied at school – asked Charles to change his coronation clothes
As a Page of Honor, Prince George wore unique clothing rooted in history. Beforehand, though, the young prince decided to approach his grandfather, King Charles, and inform him of his desire to wear something different.
As reported by the Daily Mail, 9-year-old George decided to make a bit of coronation history by persuading King Charles to change the centuries-old uniform usually worn by the Pages of Honor.
Why? Well, it's said that the future king was afraid of getting bullied by his classmates at school.
"George, one of four pages assisting the monarch, voiced his concerns about having to wear white knee breeches," the Mail reported.
A royal source added that Prince George wasn't keen on wearing tights either because of possible "ribaldry at school."
Now, one might think that royal traditions aren't things that can be changed or altered easily. Yet over the years, King Charles has been very open to modernizing the monarchy, not only with regards traditions, but also with the idea of slimming down on the number of working royals.
When his grandson approached him about the subject of clothing for the coronation, King Charles is said to have listened and accepted George's wishes.
"The King agreed, and the breeches and tights were replaced with trousers. Charles was in no position to object. He had already decided to replace his own breeches with naval trousers. But he distressed his tailor by keeping the buckled court shoes that should only be worn with tights. They crumpled his trews," the newspaper stated.
William and Kate were worried about putting too much pressure on their eldest son
While it was rumored for months that Prince George would have a significant role at the coronation, the young prince's participation at his grandfather's event reportedly sparked a "bit of an argument" between his parents.
One expert claimed that Prince William and Kate Middleton were worried about the pressure being placed on the young royal's shoulders.
According to royal commentator and author Tom Quinn, William and Kate were worried that the pressure might be too much for the young prince so early in his life.
"I've heard from my contacts that there is a bit of an argument going on about whether George should play a more formal role," he told the Express. "I've heard that Kate and William are worried that it will be too much for him."
A royal source also spoke with People concerning the possibility that William and Kate feel as though they are putting too much pressure on their son.
They are "cognizant that he is old enough to understand what's going on," the royal source said.
"But they're mindful that normal life resumes when George is back at school with his classmates the following week, where the weekend's events will likely be the talk of his classmates."
Looking back on the coronation, it's clear that the Prince and Princess of Wales had nothing to worry about. Their eldest son gave an outstanding performance on the biggest of royal stages, though only time will tell what the future holds for Prince George.
Prince George "understands that he's different," royal expert states
The young prince has reportedly already told his classmates to "watch out" as his father is the future king. Indeed, by all accounts young Prince George is now starting to fully understand his role in the monarchy and his expected duties moving forward.
A few years ago, royal expert and author Katie Nicholl stated that Prince George is well aware that he is "very different" from his siblings, Charlotte and Louis, as he often "gets taken away" to participate in royal duties, such as photoshoots with his grandfather, his father, and previously, the late Queen Elizabeth II. Nicholl said that George "understands that he is in a unique position. But most importantly, Prince William and Princess Catherine treat all their children equally."
It's said the master plan to introduce him to the idea of one day becoming a monarch is "being introduced to him gradually".
"The true enormity of what his life will one day be isn't something he's fully aware of yet," Nicholl said in July 2020.
"I think George understands, like William did from a very early age, that he's different from his younger brother and sister and that he'll have a different future," she added.
What did you think of Prince George's role as Page of Honor at the coronation?
And do you think he ever will be king? Please, share this article with friends and family on Facebook and give us your opinion!