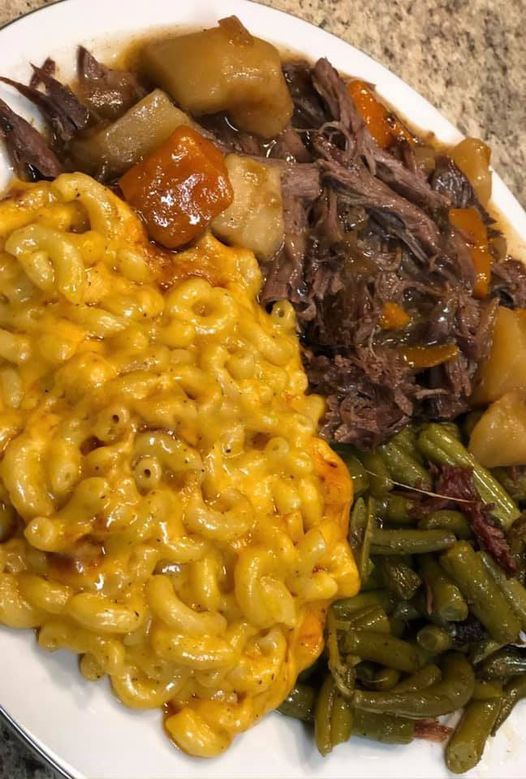 INGREDIENTS
1 tablespoon olive oil
3-4 pounds chuck roast or rump roast
1 large onion chopped, or two small onions
4 carrots cut into 2″ pieces
2 stalks celery cut into 1 ½" pieces
1 pound baby potatoes
1 cup red wine
2 cups beef broth or as needed
4 cloves garlic coarsely chopped
½ teaspoon rosemary
½ teaspoon thyme
1 bay leaf
DIRECTIONS
Preheat oven to 300°F.
Season roast with salt and pepper.
In a large dutch oven, heat 1 tablespoon olive oil over medium-high heat. Sear the roast on each side until browned, about 4 minutes per side adding more oil if needed.
Arrange onions around the roast. Combine wine, broth, rosemary, garlic, and thyme. Pour over the roast. Add bay leaf.
Bring just to a simmer on the stovetop over medium-high heat. Once the broth is simmering, cover and place in the oven and bake 2 hours.
Add potatoes, carrots, and celery, and bake an additional 2 hours (for a 4lb roast) or until the roast and potatoes are fork-tender.
Discard bay leaf. Gently pull beef into large pieces with a fork or slice into thick pieces. Serve with juices (or make gravy below if desired).
To Make Gravy:
Combine 2 tablespoons cornstarch with 2 tablespoons cold water until smooth.
Remove beef and vegetables from the pot and set them on a plate to rest. Add extra broth if needed.
Bring broth to a boil and whisk in cornstarch mixture a little bit at a time until thickened.
Season with salt & pepper to taste.
Enjoy!