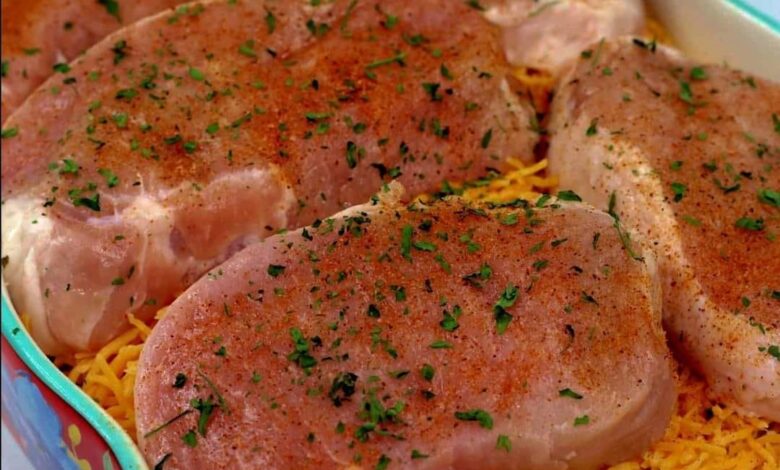 PORK CHOP CASSEROLE: A Delicious and Easy-to-Make Recipe
If you're looking for a hearty and satisfying dish that combines the flavors of tender pork chops, savory vegetables, and creamy sauce, then look no further than Pork Chop Casserole! This delicious recipe is perfect for a family dinner or a comforting meal on a chilly evening. In this article, we will guide you through the process of creating a mouthwatering Pork Chop Casserole, complete with step-by-step instructions and helpful tips. Get ready to indulge in a delectable dish that will impress your taste buds and leave you craving for more!
The Allure of Pork Chop Casserole
Pork Chop Casserole is a beloved dish that combines the succulence of pork chops with the rich flavors of vegetables and a creamy sauce. The casserole method of cooking allows the flavors to meld together, resulting in a satisfying and comforting meal. This dish is not only delicious but also versatile, as you can customize it with your favorite vegetables and spices. Let's dive into the recipe and learn how to make a tantalizing Pork Chop Casserole from scratch.
The Recipe: Pork Chop Casserole
Ingredients:
4 bone-in pork chops
1 tablespoon olive oil
1 onion, thinly sliced
2 cloves garlic, minced
1 red bell pepper, sliced
1 green bell pepper, sliced
1 cup sliced mushrooms
1 can diced tomatoes, undrained
1 teaspoon dried thyme
1 teaspoon dried oregano
1 cup chicken broth
1 cup shredded mozzarella cheese
Salt and pepper, to taste
Fresh parsley, chopped (for garnish)
Instructions:
Preheat your oven to 375°F (190°C).
Heat the olive oil in a large skillet over medium heat. Season the pork chops with salt and pepper, then sear them in the skillet until browned on both sides. Remove the pork chops from the skillet and set them aside.
In the same skillet, add the sliced onion, minced garlic, red and green bell peppers, and sliced mushrooms. Sauté the vegetables until they become tender and fragrant.
Stir in the diced tomatoes, dried thyme, dried oregano, and chicken broth. Season with salt and pepper to taste. Allow the mixture to simmer for 5 minutes, allowing the flavors to blend together.
Transfer the vegetable mixture to a baking dish and arrange the seared pork chops on top. Cover the dish with aluminum foil and bake in the preheated oven for 25 minutes.
Remove the foil and sprinkle the shredded mozzarella cheese over the pork chops. Return the dish to the oven and bake for an additional 10-15 minutes, or until the cheese is melted and bubbly.
Once cooked, remove the Pork Chop Casserole from the oven and let it rest for a few minutes. Garnish with freshly chopped parsley for a pop of freshness.
Serve the Pork Chop Casserole hot, spooning the flavorful sauce and vegetables over each pork chop. This dish pairs well with steamed rice, roasted potatoes, or a side of steamed vegetables.
FAQs
Q: Can I use boneless pork chops for this recipe?
A: Yes, you can use boneless pork chops if you prefer. Bone-in pork chops add extra flavor, but boneless chops work just as well. Adjust the cooking time accordingly, as boneless chops tend to cook faster.
Q: Can I use different vegetables in the casserole?
A: Absolutely! The beauty of Pork Chop Casserole is that you can customize it to your liking. Feel free to add or substitute vegetables based on your preferences. Bell peppers, mushrooms, onions, and tomatoes work well, but you can also include zucchini, carrots, or any other vegetables you enjoy.
Q: Can I prepare Pork Chop Casserole in advance?
A: Yes, you can assemble the casserole in advance and refrigerate it until ready to bake. Simply follow the recipe instructions, cover the baking dish, and refrigerate for up to 24 hours. When you're ready to enjoy, bake it according to the recipe, adding a few extra minutes if needed.
Q: Can I freeze Pork Chop Casserole?
A: Yes, Pork Chop Casserole can be frozen for later use. After baking, allow the casserole to cool completely, then transfer it to a freezer-safe container or wrap it tightly with foil. Freeze for up to 3 months. To reheat, thaw it in the refrigerator overnight and bake it in a preheated oven until heated through.
Q: Can I use a different type of cheese?
A: Absolutely! While the recipe calls for mozzarella cheese, you can experiment with other varieties such as cheddar, Monterey Jack, or a blend of different cheeses. Each cheese will bring its own unique flavor profile to the dish.
Q: What side dishes go well with Pork Chop Casserole?
A: Pork Chop Casserole pairs well with a variety of side dishes. Consider serving it with steamed rice, roasted potatoes, buttered noodles, or a fresh green salad. These options complement the flavors of the casserole and provide a well-rounded meal.
Pork Chop Casserole is a delightful dish that combines the tenderness of pork chops with the comforting flavors of vegetables and a creamy sauce. With its simple preparation and satisfying taste, this recipe is a winner for any occasion. Whether you're cooking for your family or hosting a dinner party, Pork Chop Casserole is sure to impress. So, gather your ingredients, follow the recipe, and enjoy the delightful flavors of this mouthwatering dish!