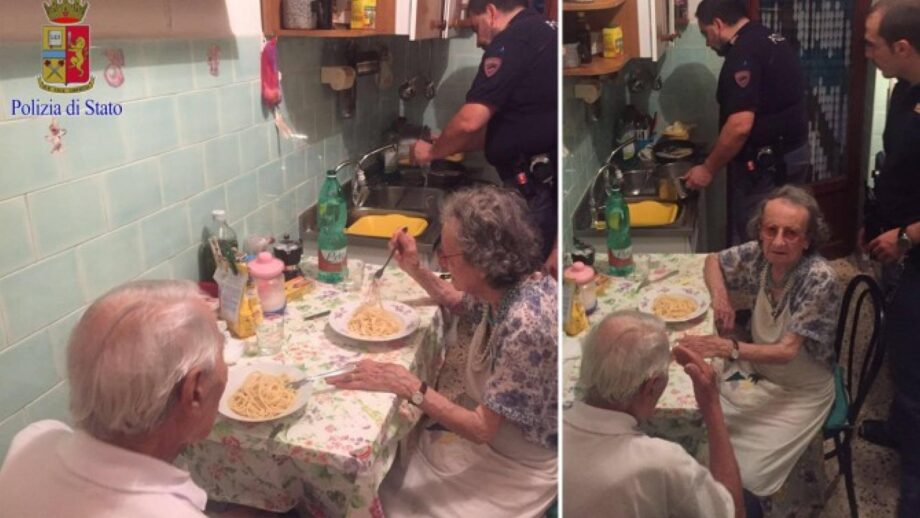 Police find elderly couple crying out of loneliness. They cooked them spaghetti and listened to their stories
The elderly woman was crying so loudly that a neighbor thought she was in danger and called the police. When the cops arrived, they realized that the situation was far from what they expected.
As they sat down to watch the news, an elderly couple thought they would have to spend yet another night all by themselves with nobody to talk to. But to their pleasant surprise, the couple saw the night take a turn after a bunch of police officers arrived at their apartment out of the blue.
The elderly couple, Michele, 94, and Jole, 84, were watching TV and saw the usual depressing news—cr ime and ab use—appearing on their screen. The news made Jole so emotional that she began crying out so loudly and asking her husband why there was so much hate in the world.
The elderly woman was so loud that her voice traveled outside of their small apartment in Rome, Italy, and other residents could hear her cries.
One of the residents called up the police and told them that it sounded like a woman was in danger, according to news5cleveland.com. Soon after the call, the police arrived at the elderly couple's apartment and found the couple, not in any danger but desperate for someone's company.
"Life isn't always easy," the police later wrote on Facebook. "Especially when the city is empty and the neighbors are away on holiday. Sometimes loneliness melts in tears. Sometimes it's like a summer storm. It comes out of the blue and overwhelms you. Jole and Michele love each other. But when loneliness is a burden on the heart, it can happen that they lose hope. It can happen, like this time, that they scream so loudly… someone [called] the State Police."
Those screams led to the police arriving at the frontdoor of Michele and Jole, who were married to each other for 70 years and were feeling the burden of loneliness in their senior years. "Jole and Michele are not victims of scams as often happens to the elderly and no thief has entered the house," the post continued. "There's no one to save."
This time, the police officers had "a harder task to do. There are two lonely souls to reassure," the post said.
ed speaking with them and cooked a hearty meal for them to devour. With whatever ingredients were available in the kitchen, the police whipped up some spaghetti and said the main and precious ingredient was "humanity."
All that the elderly couple needed that day was a homecooked meal and somebody willing to take the time out and talk to them. And thanks to the kind officers, Michele and Jole got exactly that after the police unexpectedly arrived. According to FOX61, the police said they "understand that just a little human warmth will restore tranquility to Jole and Michele."
Cover image source: Questura di Roma/Facebook