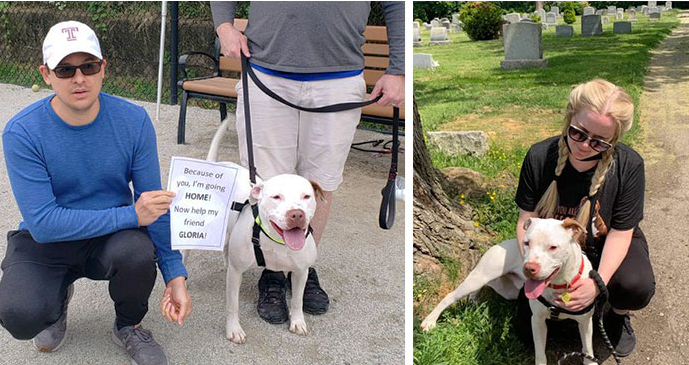 Pitbull with intense energy levels finds a forever home after a year in the shelter
Dogs with intense energy are considered to be very intelligent, fun, and active. But when it comes to making them a member of their family, most people are confused about whether to choose them or not.
The same thing happened to this Pitbull, Pepe who waited over 300 days before finally getting adopted. He waited for around a year at the Pennsylvania SPCA. When he came there, he was in emaciated condition after coming from a cruel and neglected home.
The SPCA took care of him and nursed him back to health and it turned out to be the easiest part of his journey. The dog was full of energy and it was clear that he could not be kept in the confines of the shelter.
The shelter made it clear that Pepe was a smart boy and it was difficult for him to live in the kennel. He was stressed, constantly panting, jumping, and protesting when it was time to go back to the kennel.
Pepe wanted to be in the open. He loved the long walks. So it was clear that Pepe needed a new home. So SPCA showcased the dog on social media, but months passed and there was no interest from adopters.
According to SPCA manager of lifesaving Maddie Bernstein, his other problem was that he could not live with other dogs. He would pull towards them and bark loudly. So they were looking for a home with no other dogs or cats and no young children due to his high energy levels.
Pepe waited for 348 days which made him the shelter's longest resident. The shelter continued to post his updates hoping to find the right family for the dog.
At last, the boy got adopted, the family met Pepe three times before adopting, so it appears like they are really interested in him.
Pepe had adjusted very well in his new home and instead of laying on the concrete floor in the shelter, he now naps next to his parents. He is very content and he is not panting or jumping.
Pepe's adoption brings an end to the shelter's year-long mission. But Pepe is not the only dog, there are many dogs who suffer as they are not adopted.
We are very happy that Pepe got adopted and we really want that other dogs too should get a forever home.