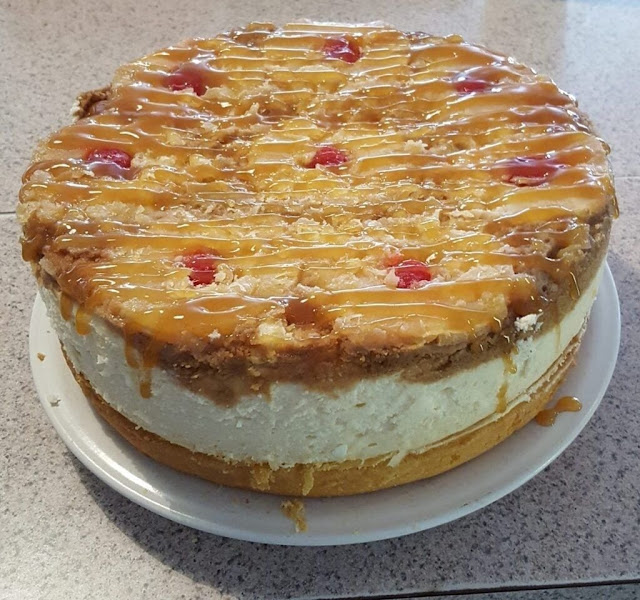 *Ingredients :
° 5 tablespoons melted butter.
° 2 tablespoons brown sugar.
° 2 boxes. For the pineapple slices, I used the 8 ounce cans.
° 7 maraschino cherries,.
° 1 c graham crackers.
° 3 tsp white sugar.
° Smooth cream cheese, I used three 8 ounce tubs.
° 3/4 ​​Cup. Of white sugar.
° 3/4 ​​cup. Of bitter cream.
° 2 sp vanilla extract.
° 3 eggs
*Method
First, you need heat oven to 325 degrees F
In 9-inch pie pan, combine 2 Tbsp butter and brown sugar until well blended; gently spread the mixture to cover the bottom of the pan.
Place the pineapple slices on the ice. Using a cherry, place one in the center of each slice of bread.
In a small mixing dish, combine the graham crackers, three teaspoons of the white sugar and three tablespoons of the butter; mix well. Slices of pineapple that have been squeezed.
In a mixing bowl, whisk together the cream cheese and three-quarters cup of white sugar until well blended. Adding bitter cream / vanilla essence / blend well. Make sure to mix everything well.
Add the eggs one at a time, mixing on low speed after each addition until well blended, and now you need to pour your batter into the cake pan.
Bake in preheated oven until center is almost set, about 55 minutes to an hour.
To removing cake from pan, run knife round inside edge of pan. Let it cool completely, which should take about 30 minutes.
Take the mold out of the oven and invert it onto a serving platter, and of course put it in the fridge for at least three hours before serving.
ENJOY IT!