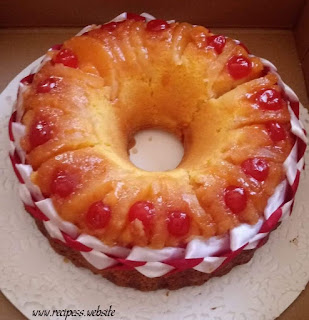 PINEAPPLE UPSIDE DOWN BUNDT CAKE
HOW TO MAKE PINEAPPLE UPSIDE DOWN BUNDT CAKE?
We found it—the dessert recipe you need to take to the first springtime gathering this year! This cake is not only bursting with all the flavors of that tropical holiday we all wish we could take, but it's also really easy to make. In earnest. In that title, don't be intimidated by the words "bundt" or "upside-down". All you need is the right pan and our instructions, and in under an hour you'll have it done.
However, when your friends slice into it and see those pineapples and cherries that are perfectly arranged, they'll think you've baked for hours. Hey, win-win! Here's what you need and how to make it.
INGREDIENTS :
A melted stick butter.
3 large eggs.
1 Glass.Of almond milk.
1 box.Of cake mix, I used the pineapple flavor.
1 Cup.Of maraschino cherries.
1 can.Of pineapple rings, I reserved the juice, cause we will need it later.
1 Cup.Of brown sugar.
1/2 Cup.Of vegetable oil.
1 Cup.Of milk.
INSTRUCTIONS:
Step 1:
I set my oven's temperature at 350 degrees F before I start to begin.
Step 2:
In a medium saucepan, I melted a stick of butter, then using it I greased a bundt pan.
Step 3:
Then over the melted butter, I sprinkled sugar, and I layered a layer of pineapple rings.
Step 4:
After that, I added a layer Of maraschino cherries over the pineapple rings.
Step 5:
I stir the pineapple cake mix In a wide mixing bowl, I added the reserved pineapple juice and milk according to the box directions on the back of the box of the cake mix.
Step 6:
I poured the batter with gentle action in layers over the cherries layer, placing it in the oven for 25 minutes.
Step 7:
I let it cool in the pan for 15 minutes, then I inverted the cake into the serving bowl.
ENJOY IT!!