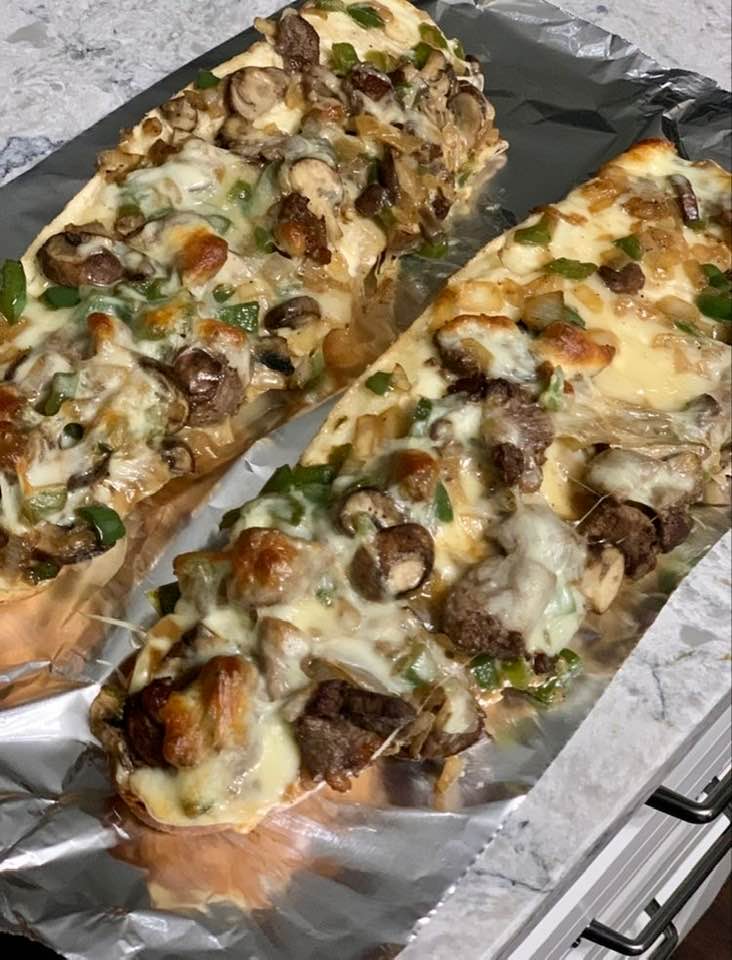 When you hear about Philadelphia, the begin thing that comes to mind is Liberty Bell, a rock theme,and cheese slice, that delicious sandwich that is the sandwich of choice for Philadelphia locals and visitors alike.
*Ingredients :
° 2 tsp vegetable oil
° 2 onions, very thinly sliced ​​into rings
° ¼ green pepper, thinly sliced
° ¼ red pepper, thinly sliced
° 2 mushrooms, thinly slice
° 300g steak (rib steak or sirloin), very thinly sliced
° salt
° Freshly ground black pepper
° 150g of white cheese (Kraft processed cheese) or 4 thin slices of provolone
° 2 hoagie breads, or 2 small individual baguettes (about 20 cm each), hot
° Pickled dill kosher
*Directions:
In a large skillet over high heat, pour in the olive oil and heat it.
Reduce the heat to medium, add the onions and fry for a minute.
Add the peppers and mushrooms, stir and cook until the mushrooms are black and the onions turn translucent. Stir regularly.
Add the steaks and cook for 3 minutes or until the meat is slightly browned. Salt and Pepper.
Place the provolone slices over the meat until it melts. If you are using sizzling cheese, melt it in a double boiler before turning it on.
Cut the bread into slices lengthwise and toast it.
Divide the meat mixture between the two doughs.
If you are using melted cheese, sprinkle half on each bread.
Served with dill pickle (kosher dill pickle).
Enjoy !