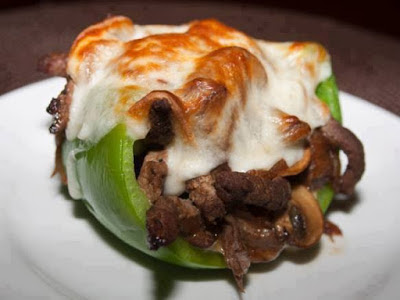 Philly Cheese Steak Stuffed Peppers
Ingredients
lb Thinly Sliced Sirloin Steak (or you can use deli roast beef)
8 Slices Provolone Cheese
4 Large Green Bell Peppers
1 Medium Sweet Onion
1 pound White Mushrooms
3 Tbsp Butter
3 Tbs. Olive Oil
Salt and Pepper to taste
DIRECTIONS
Slice a thin piece off each pepper lengthwise, remove ribs and seeds.
Slice onions and mushrooms. Saute over medium heat with butter, olive oil, and a little salt and pepper. Saute until onions and mushroom are nice and caramelized. About 25-30 minutes. Salt and pepper the steak and saute in a little olive oil until just not pink. About 5 minutes.
Preheat oven to 400
Add steak to the onion/mushroom mixture and stir to combine.
Line the inside of each pepper with a slice of provolone cheese.
Fill each pepper with meat mixture until they are overflowing.
Top each pepper with another slice of provolone cheese.
Bake for 15-20 minutes until the cheese on top is golden bro