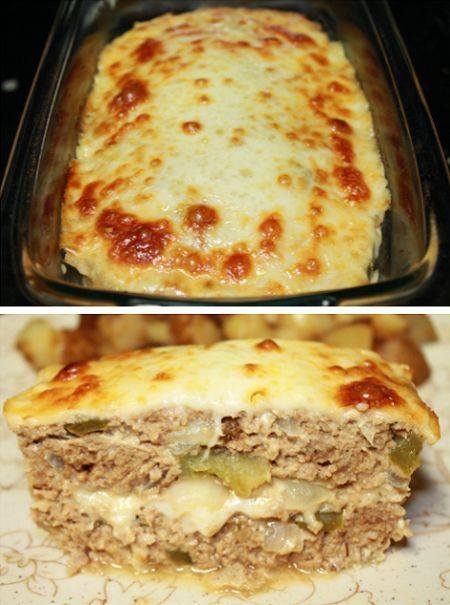 Philly Cheesesteak Meatloaf with green bell peppers, onions and mushrooms topped and stuffed with Provolone Cheese.
Philly Cheesesteak Meatloaf is officially our new favorite meatloaf in our house. We've been on an everything Philly Cheesesteak kick through the summer and this meatloaf is just replacing our previous favorites.
We have a go-to meatloaf recipe we've used for years and a bacon cheeseburger meatloaf (this is coming in the fall). This recipe is 100% better than that one and I LOVE that one. So take that recommendation as seriously as you want. 
Ways to enjoy this Philly Cheesesteak Meatloaf recipe:
Enjoy as you normally would or you can bake in smaller loaf pans.
Top with Cheez Whiz instead of Provolone for your loaf pan.
Let it cool completely in the fridge, cut thick slices and sear in a super hot pan with a pat of butter.
Take the seared slices and add to sandwiches/hoagie rolls.
Looking for more Cheese Steak recipes? They're one of my favorite things to cook in every form, so look no further!
Philly Cheese Steak Sloppy Joes
Oven Baked Philly Cheesesteak Sandwiches
Philly Cheesesteak Hamburger Helper
Ground Philly Cheesesteak Grilled Cheese
Slow Cooker Philly Cheese Steak Sandwiches
Philly Cheese Steak Burgers
Pat's Philly Cheese Steak (Copycat)
Cheesesteak Egg Rolls
Ingredients
1 medium onion, chopped
1 green bell pepper, chopped
1 tablespoon oil
1 lb. ground meat
1/2 cup bread crumbs
1 egg
Several dashes salt and pepper
1/2 teaspoon garlic powder
3 tablespoons Worcestershire sauce
6 slices provolone cheese
Instructions
Preheat the oven to 350°F.
In a skillet, sauté the onion and pepper in the oil until tender.
Combine these veggies with the remaining ingredients except the cheese in a bowl.
Place half of this mixture into a greased loaf pan and top with 3 of the slices of provolone cheese.
Repeat so you have two meat-cheese layers.
Bake for 45 minutes (the internal temperature of the meat should reach 165°F).
Allow the meatloaf to sit for 5 minutes before slicing and serving. Yield: 4-5 servings.