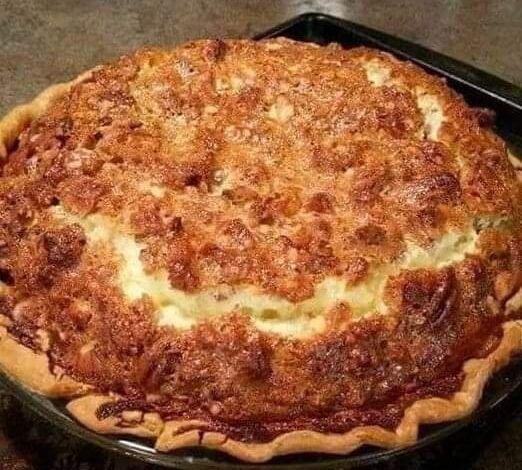 Pecan Cheesecake Pie ~ Oh My!?
Are you ready to embark on a delightful culinary journey with the delectable Pecan Cheesecake Pie ~ Oh My!? This mouthwatering dessert combines the richness of cheesecake with the nutty goodness of pecans, all nestled in a flaky pie crust. In this article, we'll take you through every step of crafting this indulgent treat, from gathering the ingredients to savoring each heavenly bite. So, roll up your sleeves and let's get started!
Ingredients:
Before we dive into the detailed recipe, let's have a quick look at the ingredients you'll need for this heavenly Pecan Cheesecake Pie ~ Oh My!:
| Ingredients | Quantity |
| --- | --- |
| Unbaked pie crust | 1 |
| Cream cheese, softened | 1 8 oz package |
| Sugar | 1/4 cup |
| Eggs, divided | 4 |
| Vanilla extract | 1 tsp |
| Pecans, chopped | 1 cup |
| Corn syrup | 1 cup |
| Brown sugar, packed | 1/4 cup |
Now that we have our ingredients sorted, let's delve into the step-by-step preparation of this delightful dessert.
Step-by-Step Instructions:
1. Creating the Cheesecake Base
Begin by creating the creamy cheesecake base that will serve as the foundation of your Pecan Cheesecake Pie ~ Oh My!:
In a mixing bowl, beat the softened cream cheese until it's smooth and creamy.
Add the sugar and one egg to the cream cheese, along with a teaspoon of vanilla extract. Continue to beat the mixture until it's well combined.
2. Assembling the Pie
With the cheesecake base ready, it's time to assemble the pie:
Take your unbaked pie crust and spread the creamy cheesecake mixture evenly over it.
Sprinkle the chopped pecans generously over the layer of cheesecake. This will add a delightful crunch and nutty flavor to your pie.
3. Preparing the Pecan Topping
Now, let's prepare the mouthwatering pecan topping that will make your Pecan Cheesecake Pie ~ Oh My! truly irresistible:
In a separate bowl, beat the remaining three eggs.
Mix in the corn syrup and packed brown sugar until you have a well-blended syrupy mixture.
4. Baking to Perfection
It's time to bake your masterpiece:
Preheat your oven to 425°F (220°C).
Bake the pie at this temperature for the first 10 minutes to give it a quick start.
After 10 minutes, reduce the heat to 375°F (190°C) and continue baking for another 25-30 minutes, or until the pie is set and has a beautiful golden hue.
5. The Grand Finale
Allow your Pecan Cheesecake Pie ~ Oh My! to cool down, and once it has, it's time for the grand finale:
Slice your pie into generous portions.
Serve and savor every delicious bite. Enjoy!