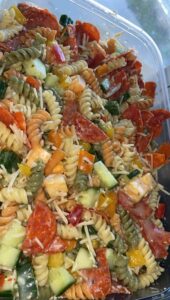 That time a year again!! Pasta salad is a must have! Here's what I use.
-2 English cucumbers
-3 pack of orange, yellow & red bell pepper
-cube cheese
-pepperoni
-tri colored noodles
-Olive Garden dressing
-1 cup of parm cheese
I also throw in black olives as I eat it but kids don't eat them so I leave em out!