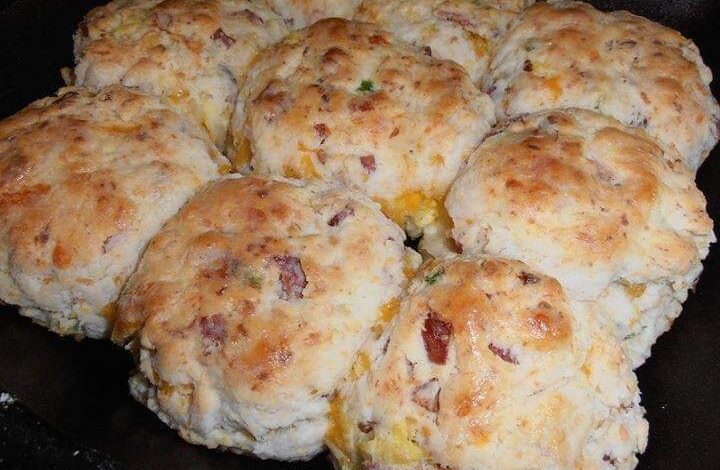 Are you ready to embark on a culinary adventure that combines the best of biscuits and omelets? Look no further! In this article, we're diving into the world of Omelet Biscuits – a mouthwatering breakfast option that combines the flakiness of biscuits with the savory goodness of omelets. Get ready to tantalize your taste buds as we explore this delectable dish step by step.
Ingredients:
Before we dive into the cooking process, let's take a look at the ingredients you'll need to create these delicious Omelet Biscuits. The table below lists all the components required for this recipe.
| Ingredients | Amount |
| --- | --- |
| Buttermilk Biscuits (recipe below) | 1 batch |
| Diced deli ham | 1/4 cup |
| Bacon, cooked and crumbled | 5 slices |
| Eggs | 2 |
| Green onions, chopped (whites and greens) | 2 |
| Colby cheese, shredded | 1 cup |
| Butter | 1/2 tablespoon |
| Additional flour | As needed |
The Buttermilk Biscuits
Preparing the Biscuits:
Start with the Buttermilk Biscuits. Here's how you make them:

3 cups of self-rising flour
1/2 cup of lard (yes, lard, it makes a flakier biscuit)
A pinch of sugar
Buttermilk
Melted butter

Cut the lard into the flour and add a pinch of sugar. Add enough buttermilk to make a soft dough. Knead it until it's smooth (avoid over-kneading to prevent tough biscuits).
Pinch off a bit of the dough and roll it into a ball. Lightly flatten it in a greased iron skillet or pan.
Bake in a preheated 425-degree oven for 15-18 minutes. Brush with melted butter when removed from the oven.
Now that we have our Buttermilk Biscuits ready, let's move on to the main event – creating the Omelet Biscuits.
Crafting Omelet Biscuits:
Using the biscuit recipe above, make the biscuit dough up to the point just before adding in the milk. Set it aside.
In a small skillet, melt the butter and toss in the onions. Sauté for a minute or two to soften.
Add in the 2 eggs and gently stir around to begin scrambling. Remove the eggs when they just begin to set from the heat.
To the biscuit mixture, add in the cooked bacon, diced deli ham, scrambled eggs & onions, and shredded Colby cheese. Toss with a fork to combine it all together in the biscuit mixture.
Slowly begin adding in the buttermilk, using the fork to pull it all together to form a soft (it will be somewhat sticky) dough.
Grease an iron skillet or baking sheet and preheat the oven to 425 degrees.
Using well-floured hands, pinch off a portion of the biscuit dough, roll it in your hands, and then place it in the pan. Lightly flatten the top. Continue with the remaining dough.
Bake for 15-17 minutes, moving from the bottom rack of the oven to the top when the bottom has begun to brown.
Remove the biscuits from the oven and rub the tops with butter for that extra layer of flavor.