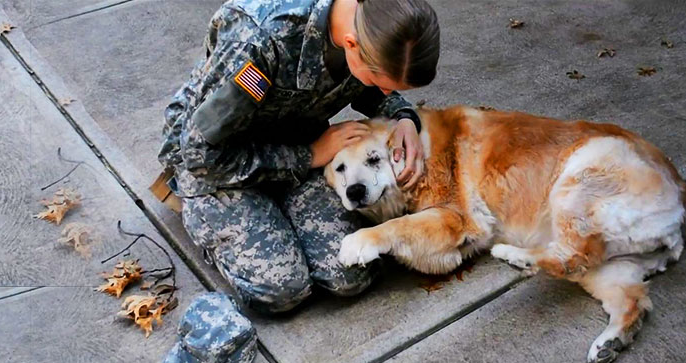 Old dogs begin to cry when she meets her best friend return from the army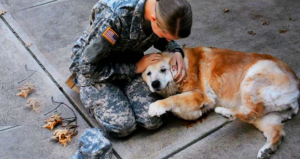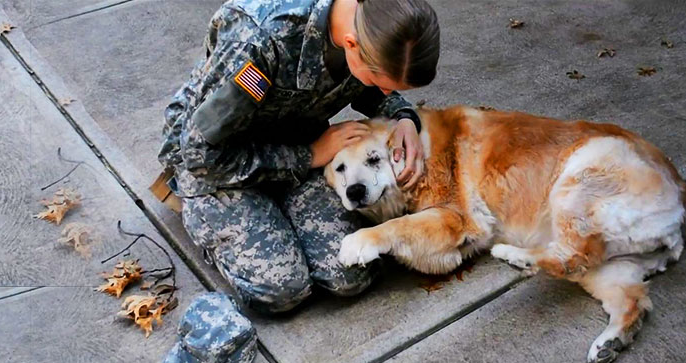 Dogs are man's best companions that we know. They are always there to cheer us. But when due to some reasons we have to move away from them, they miss us the most. Though they may not be able to express their feelings yet they are the ones who find it difficult to be away from us.
So here is Buddy who is a 13-year-old Golden Retriever and she spent her life with her best friend Hannah Foraker. But as Hannah turned 21, she went to take the basic training of the army in Oklahoma.
Hannah found it very difficult to leave her best friends that include her horse  Derby and Buddy. At last, when she returned for a Christmas break after 3 months, she was very excited to see her friend Buddy. Even Buddy was very excited.
Buddy and Hannah are very close to each other. Hannah got  buddy when she was just a puppy. Now Buddy has grown very old and deaf and has arthritis.
But that did not stop Buddy from giving the best welcome to Hannah. The moment when Buddy saw Hannah, she buries her head in her lap lovingly and started to cry.
Really this union was very heartwarming and it melted many hearts. Though we have seen many happy unions of the military and the dogs yet this one was very special.
We know that dogs never ever forget their friends. The moment these military men come back home, these dogs are ready to welcome with open paws.
Such types of reunions remind us how much dogs love and care for us. They tell us that dogs truly provide unconditional love in this world. They remind us that we need to take good care of our best friends.