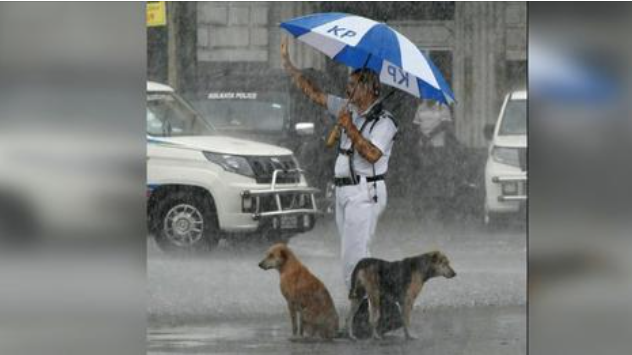 Officer goes viral for sharing his umbrella with stray dogs during heavy rain
There are so many stray dogs out in the world, fending for themselves without any loving humans to go home to, so it's always heartwarming to see people go out of their way to show these animals a little kindness.
Because stray dogs don't have any shelter, it's especially nice to see people protecting them from inclement weather, whether its severe heat or cold or just a rainy day.
Shutterstock
Recently, one police officer went viral after shielding two stray dogs with his umbrella during a downpour, helping to keep the poor pups dry.
Tarun Kumar Mandal, a police constable in Kolkata, India who is in charge of the East Traffic Guard, was on duty at a seven-point crossing last week when he got some unexpected company.
It was raining heavily, and Tarun was keeping himself dry with an umbrella — and when two stray dogs came to his side, he was happy to share, providing some momentary shelter for the street dogs:
The heartwarming scene has now gone viral. According to Indian Express, a pic was taken by photographer Sayan Chakraborty and shared by the Kolkata Police's official Facebook page, and has been shared over 10,000 times.
It even inspired some fan art:
View this post on Instagram
India also has one of the highest amounts of stray dogs in the world, with an estimated population of 35-40 million.
According to Indian Express, Kolkata has been experiencing their highest September rainfall in 14 years, so it's safe to say these poor dogs had been drenched over the past few weeks and were no doubt grateful for the brief respite, thanks to this kind officer.
What a heartwarming photo. We're so glad people are looking out for stray dogs, showing them a little kindness when they need it.
Share this inspiring story!