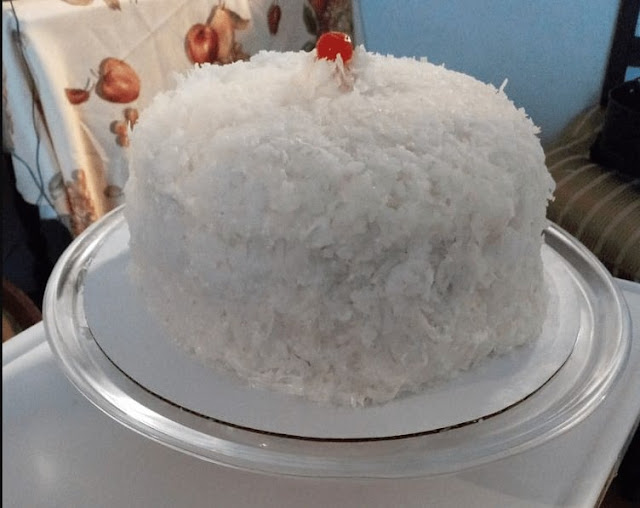 MY OLD FASHIONED COCONUT CAKE
This is one of my favourite cakes. I love coconut, and this old-fashioned cake lets me enjoy two of my faves in one!
This is a pretty straightforward recipe. Hands down one of the best and easiest. I always give this a five-star rating, and I am proud to say that my family enjoys every inch of this amazing cake! If you are planning to host a party or simply looking for dessert, this impressive cake surely fits your needs.
Ingredients
CAKE:
1 cup Crisco
5 eggs
2 1/2 cups Sugar
1 teaspoon Baking Powder
1 teaspoon Vanilla Flavoring
PINEAPPLE FILLING:
1 can(s) Crushed Pineapple
1 teaspoon Butter
Sweeten to taste with brown sugar
SOUR CREAM FROSTING:
1 cup Sour Cream
10 Confectioners Sugar
1 teaspoon Softened Butter
1 can(s) Coconut
How to make My Old Fashioned Coconut Cake
Step 1: Cream the Crisco with sugar. Add the eggs, a piece at a time. To the cake flour, add the baking powder, then add it to the Crisco and sugar mixture. Mix well until combined before adding in a tsp of vanilla flavouring. Pour the batter into three 9-inch cake pans. Place in a 350 degrees oven and bake for about 25 to 30 minutes. Remove from the oven when done and allow the cakes to cool.
Step 2: To make the Pineapple Filling, place the pineapple filling ingredients in a 1 1/2 quart saucepan. Cook the mixture for about 5 to 10 minutes to thin it out.
Step 3: Using an ice pick, poke a few holes on top of the cake. This will help the filling absorb in the cake.
Step 4: In a mixer bowl, mix the sour cream and butter. Add the confectioners' sugar, enough to have a spreading consistency. Spread this on top and sides of the cooled cake. Lastly, sprinkle with coconut. Enjoy!