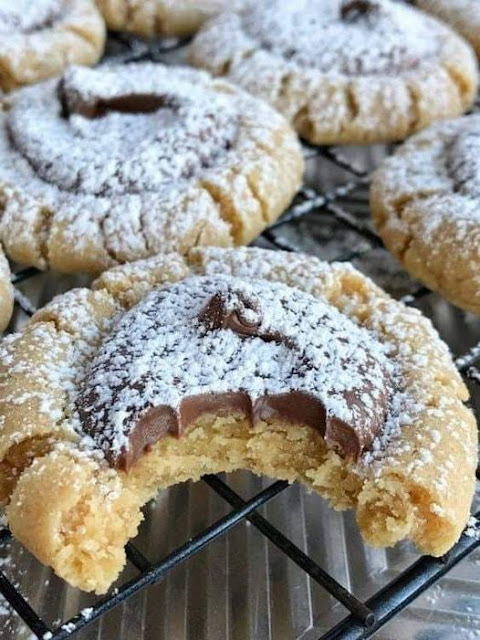 Muddy Buddy cookies are huge fluffy peanut butter cookies with milk chocolate ganache, sprinkled with powdered sugar. This is a top notch cookie that's totally beginner friendly! Give them a try today!
* Ingredients :
+Peanut Butter Biscuits
° 1 cup soft butter
° 1/4 cup granulated sugar
° 1 1/2 cups brown sugar
° 2 eggs
° 2 teaspoons vanilla
° 1 cup creamy peanut butter
° 3 cups flour
° 3/4 teaspoon salt
° 2 teaspoons baking powder
° 2 teaspoons cornstarch
° powdered sugar for decoration
° Milk chocolate ganache
° 3 cups milk chocolate
° 3/4 cup heavy cream
* Directions :
Preheat the oven to 350 degrees, while the oven is heating up, prepare the cookie dough.
Beat butter and sugar together until light and fluffy.
Scrape sides and add eggs, vanilla and peanut butter. Whisk until blended.
Scrape the sides and add the flour, baking powder and cornstarch. Mix until well blended.
Use a ladle to create equal sized cookies. Scoop out the cookie dough twice to make large, baked-style cookies (more details above).
Flatten the cookie dough by gently pressing the bottom of the drinking glass down into the center of the cookie dough. Repeat with the remaining dough. The cookies will spread a bit so be sure to leave room. I tend to put only 6 cookies in the pan.
Bake at 350 degrees for 9-11 minutes or until cookie centers are puffed and no longer shiny.
Microwave the heavy cream until it boils (about 2 minutes) and then pour the chocolate chips into the hot cream.
Let the chocolate chips and hot cream sit for 5 minutes. After 5 minutes are up, stir until mixture is smooth.
Allow the ganache to cool and thicken slightly, then spoon the ganache onto each cookie.
Rearrange cookies until ready to serve. About 20 or 30 minutes before serving, take it out of the refrigerator and sprinkle with powdered sugar.
Keep refrigerated!
Enjoy !