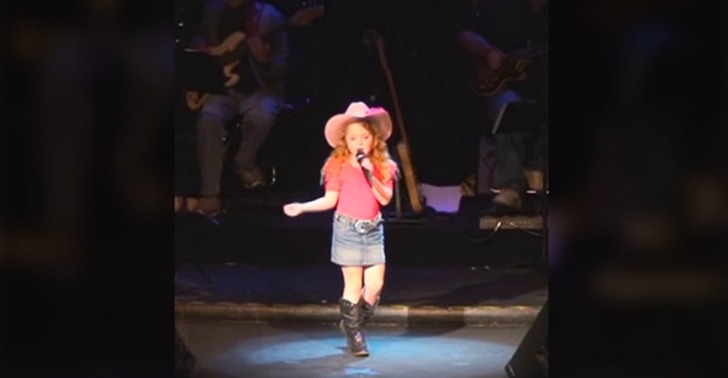 Mini Cowgirl Walks to The Stage To Sings Big Country Song But Wait Till The Music Starts
The best part about being surprised is when your expectation is less than the surprise itself – you get more than what you see and expected!


This is the key to a good surprise, after all.
Whenever I think of a "good surprise," my head instantly takes me to a time that I experienced someone throw a great party for a birthday or anniversary; or, when I eat a great meal that I wasn't suspecting, and I think to myself, "Well, this was a pleasant surprise."
I have never thought of surprises when it comes to performances because when you're watching a talent show or something that is more staged, you know that only the best-of-the-best will show up to perform. But, I was completely caught off guard with the routine we're sharing with you below! This tiny girl fills up the whole stage and the wow factor is something outside of this world — I wasn't expecting this and it came as a huge surprise!
The video opens to little Ezrah Noelle wearing small boots and a cowboy hat. She's got on a pink shirt, little jean skirt and is wearing her biggest, best voice – and with a unique twist no less! You will want to keep watching her till the end!
This is Ezrah's debut appearance at the Centennial Rodeo Opry in Oklahoma City's Stockyards City. She's singing "I Want To Be A Cowboy's Sweetheart" by Patsy Montana and The Prairie Ramblers, a fun lovin', high vibin' click-your-cowboy-boot heels kind of song. Oh but there's one more thing – the song isn't complete without yodeling! And does Ezrah ever yodel!
This tiny human being not only sings the song with all her might and heart, but she also jumps into the yodeling part like she's done in a thousand times before, which I'm starting to think maybe she has. She sounds like an adult who's been perfecting her craft for years, but really, Ezra is a child, and the fact that she can yodel this way is amazing.
This kid has charm and talent, and she's got everyone in the room falling for her grace and skill! She delivers an outstanding performance while dancing around in her boots and keeping the beat. What a doll! Although this is her debut performance, we're sure there are plenty more to come! This is just the beginning, I can feel it!