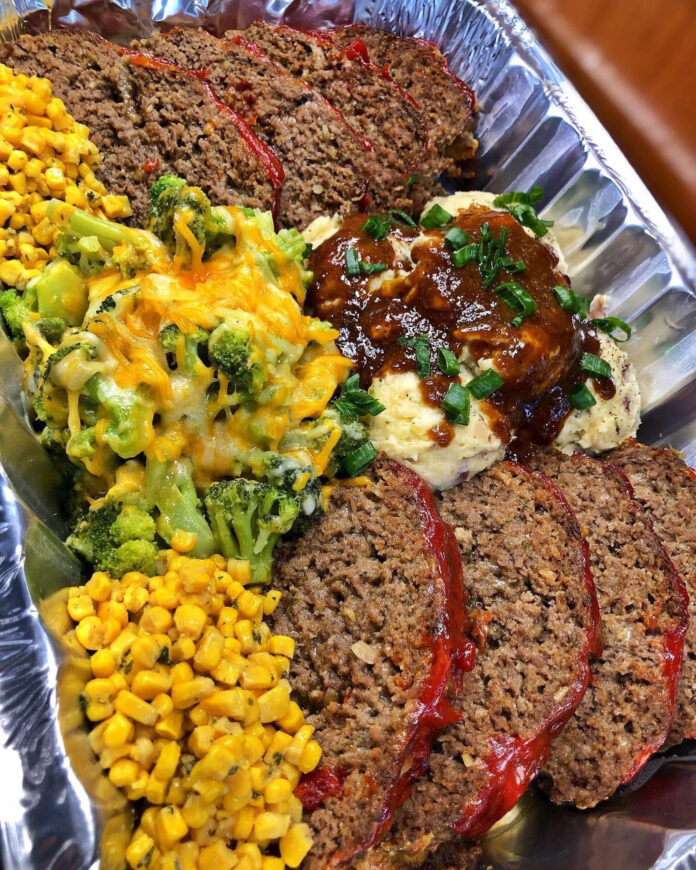 INGREDIENTS
2 tablespoons olive oil
1 large onion peeled and finely chopped
1 red bell pepper cored, seeded, and chopped
2 cloves garlic minced
4 green chiles roasted, skin removed, seeded, and rough chopped. Hatch, Pueblo, or Anaheim peppers.
2 tablespoons chili powder
2 teaspoons salt
2 teaspoons oregano Mexican Oregano preferred.
2 teaspoons cumin
28 ounces tomatoes canned, drained, chopped
1 teaspoon cider vinegar
1 1/2 pounds lean ground beef
1/2 pound ground sausage
3 cups Panko bread crumbs
2 eggs lightly beaten
1-15 ounce can creamed corn
8 Tablespoons catsup
8 ounces cheddar cheese grated
DIRECTIONS:
In a large hot skillet heat olive oil over high heat.
Add onions, bell pepper, and cook until onions start to turn translucent.
Add chile peppers, chili powder, salt, oregano, and cumin. Turn down heat to low and cook, stirring occasionally until flavors blend, about 5 minutes.
Add garlic and cook until fragrant. Add tomatoes and cook stirring occasionally, for 5 minutes. Remove from heat, stir in vinegar and let cool to room temperature.
Preheat oven to 350 degrees. In a large bowl, combine beef and sausage. Add cooked tomato mixture, bread crumbs, eggs, corn and mix well. Divide mixture into 10 1/2 ounce portions and shape into loaves. Or will make two 9 x 5 loafs.
Add 1 tablespoon of catsup to each loaf and spread around on the top.
Bake 40 minutes or until the meat thermometer into the center registers 160 degrees. Pour off any pan juices. Sprinkle cheese evenly over meatloaf and return to oven until cheese melts.
Tent the meatloaf with foil and let rest for 10 minutes. Serve.