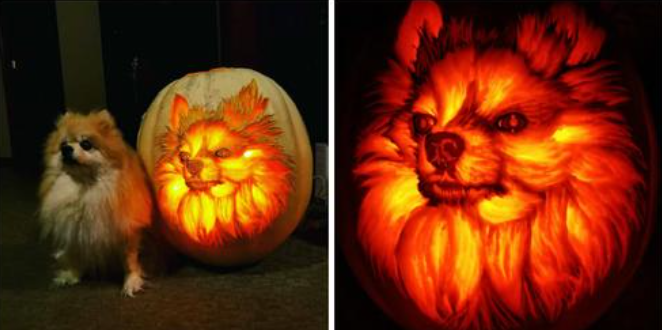 Man spends hours carving a stunning jack-o'-lantern portrait of his dog for Halloween
Halloween is just a week away. If you haven't already, it's time to get in the spirit by putting up a few festive decorations.
And what's a better decoration than the classic jack-o'-lantern? Carving a spooky face in a pumpkin is the classic look, but some people like to take things to the next level with some truly impressive designs.
Like one artist, who stuns every Halloween with his amazing pumpkin carvings… and one year, decided to honor his pet dog.
Pumpkin carving is a fun annual tradition for a lot of people, but for artist Andy Manoloff it's the perfect way to merge his passion for art with his favorite holiday.
"Halloween has always been one of my favorite holidays, and pumpkin carving was something I especially looked forward to as it was a great way to channel my artistic skill and interest in the holiday," he wrote for Bored Panda.
He has become known for his extremely detailed jack-o'lanterns over the past decade. His first hit came in 2009, with a remarkable design of Iron Man that went viral online:
In the years since, the designs have gotten even more impressive. Using just an X-Acto knife, Andy says he spends anywhere between 8 and 20 hours on carving.
Continuing the theme of the Iron Man pumpkin, a lot of his work has been superhero-themed… but our favorite has to be his 2017 masterpiece.
That Halloween, he decided to carve a portrait of his pet Pomeranian, Sophie.
Andy sketched a portrait of the dog on the pumpkin, and got to work carving.
The artist posted a time-lapse video on YouTube, where you can see the immense time and detail that went into the project:
And all that work paid off big time.
This was the final result:
It's quite a tribute to the dog. Everyone is always taking pictures of their pets, but how many go as far as to make a pumpkin portrait?
And of course, it's very impressive. I have a hard enough time carving the outline of a black cat on our pumpkins, I can't imagine doing anything nearly on this level of detail.
Andy only uses real pumpkins in his designs, which sadly means that his masterworks will not live on in a museum, but they still make quite an impression while they're alive.
"Though it is disappointing that they do not last, they offer a unique final appearance that is not matched by the synthetic foam pumpkins," Andy wrote.
Andy has kept up his annual tradition. While he hasn't done any more pet portraits, Marvel fans will be happy to know that this year he's gone back to his roots to do another Iron Man pumpkin (this time an unmasked Tony Stark) honoring his big scene at the end of Avengers: Endgame.
So enjoy carving pumpkins this Halloween, but just know that the bar has been set pretty high.
It's a story that will get any dog lover into the Halloween spirit! Share these incredible jack-o'-lanterns with your friends!