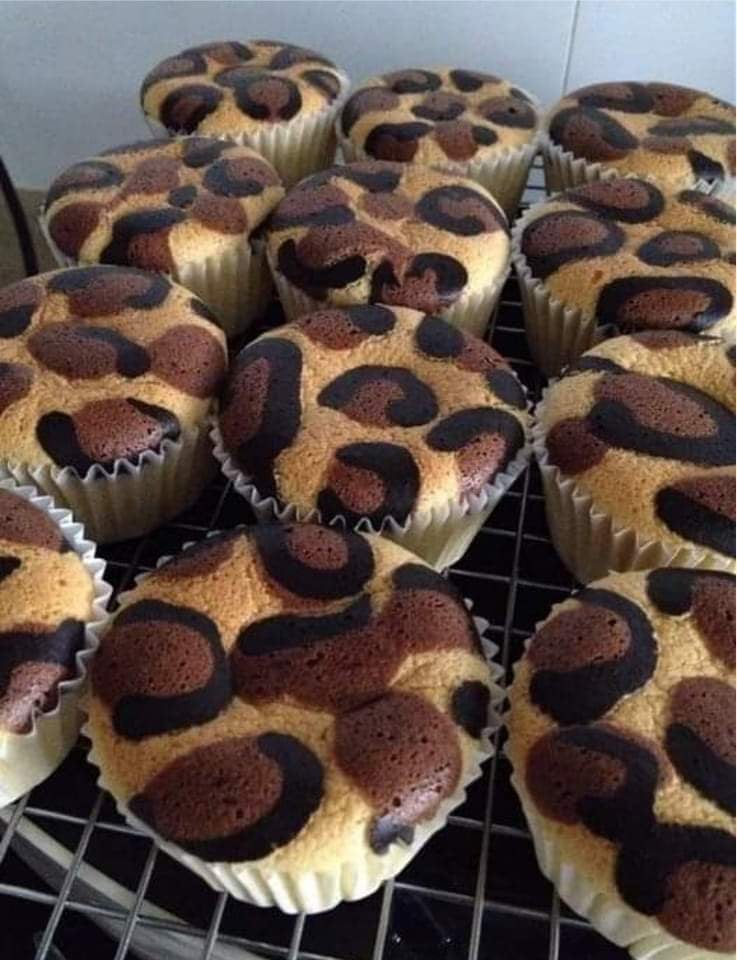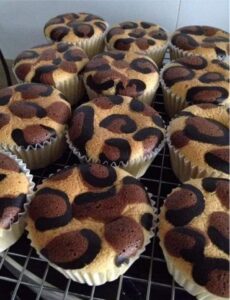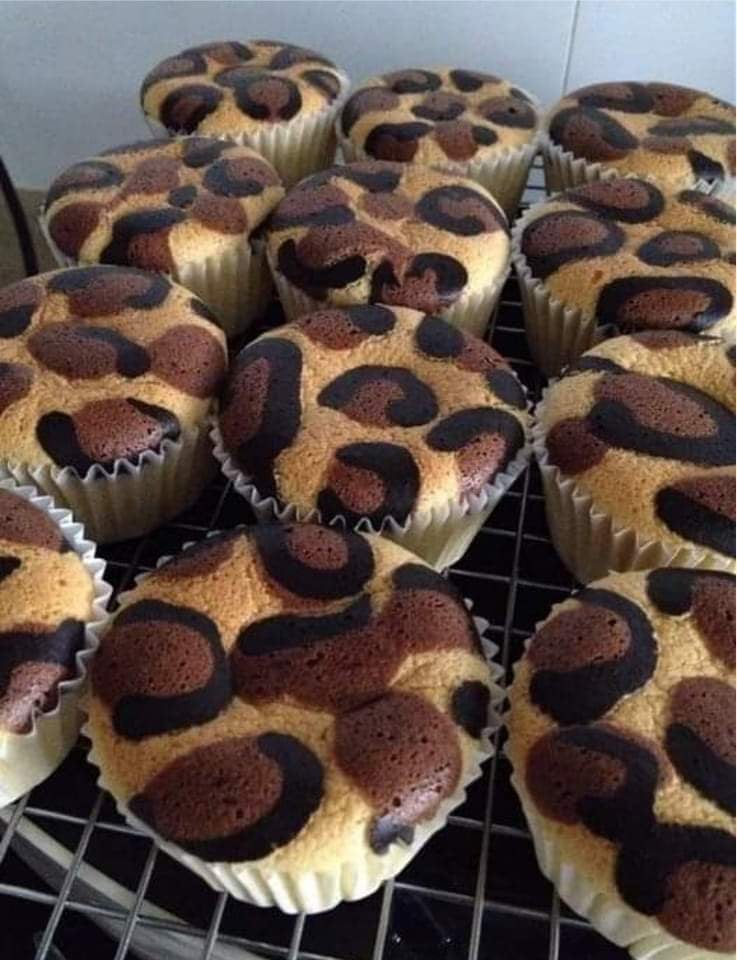 Leopard Cupcakes
Ingredients
Meringue
5 egg whites (medium size)
80g caster sugar
10g corn flour
Yolk batter
5 yolks
20g caster sugar
60g vegetable oil (canola or sunflower)
50g milk (warm) (You can substitute with orange juice)
1 tsp vanilla extract
90g cake flour
1 orange zest
Spot batter
1 tsp Chocolate powder
1 tsp Black powder or Charcoal powder
Method
Place cupcake liners into your muffin pan. Set aside.
Combine the caster sugar and corn flour together. Place the egg whites in a bowl and using your electric hand mixer, whisk the egg whites in medium speed till frothy, add in the corn flour sugar mixture gradually continue to beat until stiff peak. Set aside.
In another bowl, using your hand whisk, lightly beat the egg yolks, then add in the sugar and whisk till combine and thick. Add in the oil, followed by the warm milk and vanilla extract. Mix till all well blended. Sift in the cake flour and mix till all combined.
Gently fold 1/3 of beaten egg white into egg yolk batter, use cut and fold method until well blended. Then pour the batter back to the rest of the egg white and fold until mixture is well blended.
Scoop out 2 tablespoons batter each for the chocolate and black spots into a small bowl.
(Add in 1 tsp of cocoa powder and 1 tsp black powder to the bowls and mix till combined). Pour batter into piping bag to draw spots on the cupcakes.
In the main batter, add in the orange zest and mix to combined. Pour the batter into the cupcake liners just below the liners.
For chocolate colour spot and drop round and long spots onto the cupcakes. After that, for the black colour spot, just draw on the edges on the chocolate spots.
(Tips : Please make sure that these two colours batter are slightly thicker than the main white batter).
Bake the cupcakes using water bath method in 110 celcius for 25 minutes, 140c for 10 minutes and last 5-10 minutes raise the temperature to 160c.
Remove from oven and let cool.
Recipe sourced from this link (SingaporeHomeCooks)