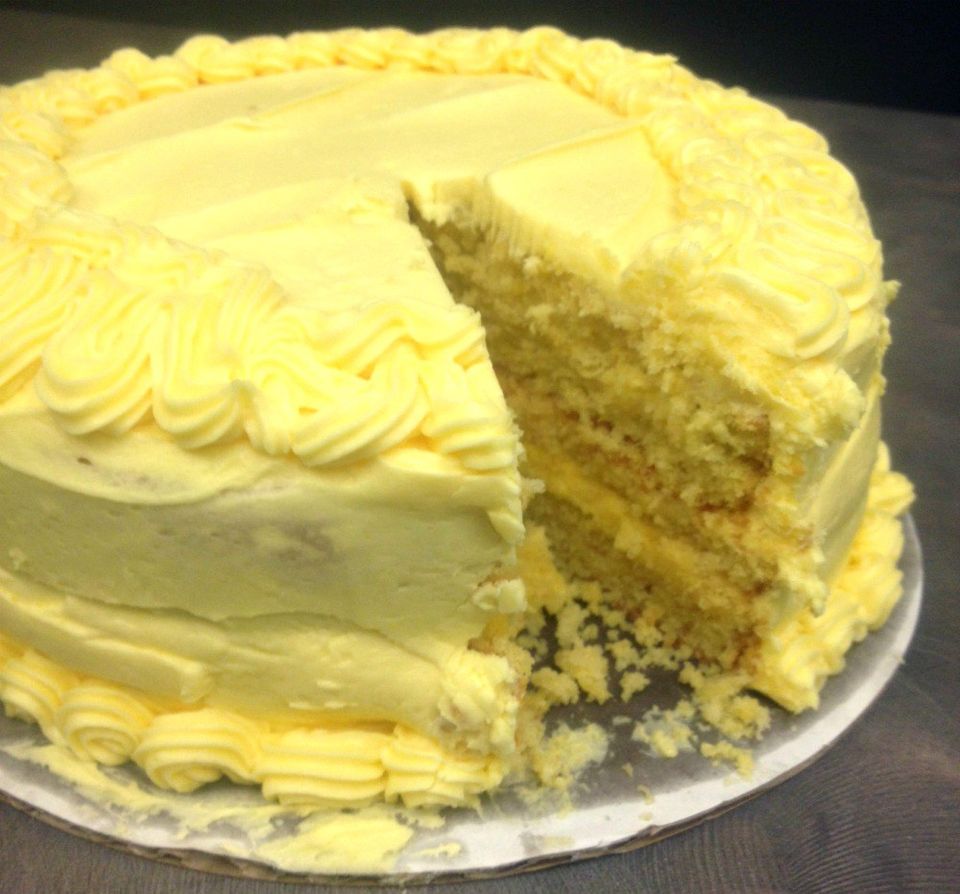 The Velvet Cake with Lemon flavor. Our most famous cake to date with a true lemon scent and an awesomely warm, airy texture, while remaining moist and tasty.
Ingredients:
For the Cake, you'll need:
-Three large eggs, at room temperature
– two cups and half all-purpose.
– A cup and half granulated sugar.
– A cup and half canola oil.
– One cup buttermilk room temperature,
– 1 tbsp of liquid food coloring.
– 1 tsp baking soda.
– 1 tsp fine salt.
– 1/2 tsp vanilla extract.
– juice of 1 lemon.
– zest of 2 lemons.
FROSTING, YOU'LL NEED:
– 8 cups sifted powdered sugar.
– One cup softened cream cheese.
– 1/2 cup softened butter.
– juice of 1 lemon.
– 2 tbsp heavy cream.
– liquid yellow food coloring.

INSTRUCTIONS:
STEP I_ Preheat your oven to 350℉. Spray 3 round baking pans using any non-stick cooking spray. Place on aside.
STEP II_ Sift the flour and salt into a large tub. Apply the 1 teaspoon baking soda to 1 cup buttermilk (use a measure of 2 cups) and mix well for growth. Place on aside.
STEP III_ Beat vegetable oil, sugar, cocoa, lemon juice, and yellow food coloring together in the tank of an electric mixer. Beat well with whisk attachment at high speed until soft and fluffy. Add eggs one after one till well mixed together.
STEP IV_ I use a spatula at this stage for folding in the lemon zest. Alternatively, substitute the dried ingredients and buttermilk/soda mixture. Start with dry ingredients and finish with.
Equally split the batter between the 3 prepared cake pans, try to make them equal. Bake for 23 to 30 mins in a preheated oven at 350 degrees.
STEP V_ Take off from the oven and put them to cool on racks for ten mins. Then invert to cool entirely before frosting
FOLLOW THOSE STEPS TO MAKE THE FROSTING:
STEP VI_ Beat the cream cheese, softened butter, and lemon juice together until creamy in a stand mixer mixing bowl with the whisk attachment. Add in the powdered sugar and combine it at a low level. STEP VII_ Beat till combined. Increase to high speed, then blend until very soft and fluffy.
STEP VIII_ Frost the cake in between layers and all over with a generous number. Using a large star tip 4B pipe a border if needed.
Store in the fridge until ready to serve. Enable 20 minutes before slicing, at room temperature.
JUST TRY THIS CAKE AND IM SURE THAT YOU WILL LIKE IT!!! AND YOUR CHILDREN TOO!